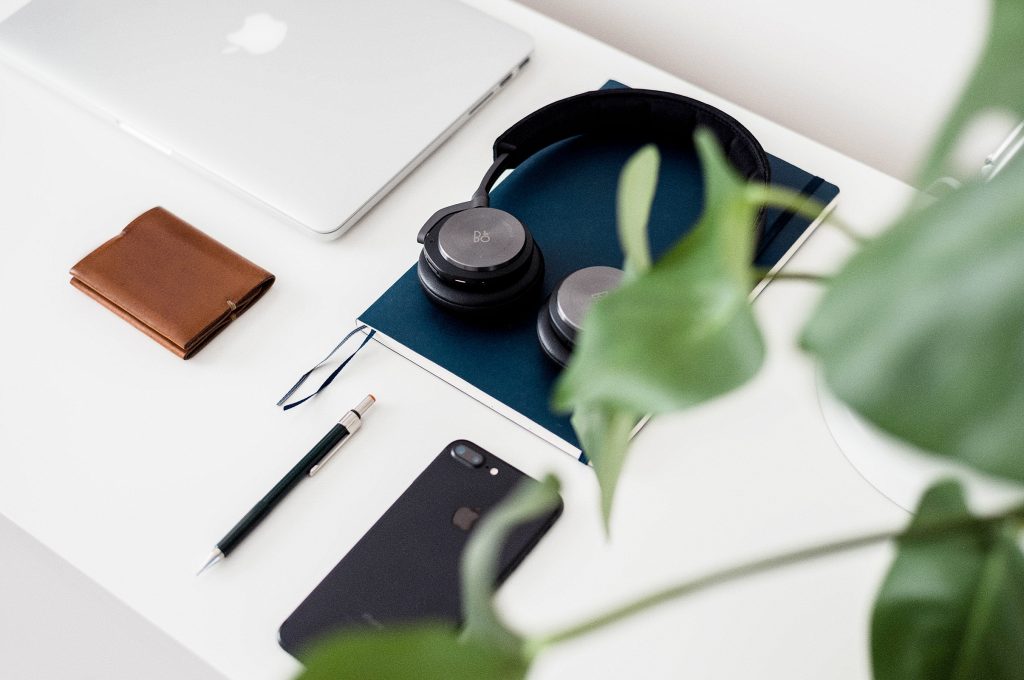 While most of us are enjoying the last weeks of summer holidays, online retail businesses are having one of the busiest times of the year with the back to school sales.
If your online business hasn't started a back to school sale yet, don't worry. Studies have shown that parents are postponing back to school shopping to the very last minute on purpose, in hopes of finding the best bargains.
Why your business should most definitely run a back to school sale
Back to school shopping is the second biggest spending season, being topped only by Christmas. It is estimated that the average cost of sending a child back to school is over $1,392. Last year, the overall expenditure in the US alone reached an astonishing $27 billion.
Moreover, recent studies show that parents spend 61% more money online per year, as it allows them to find the best bargains faster.
Back to school spending categories
So, on what exactly is all that money being spent on?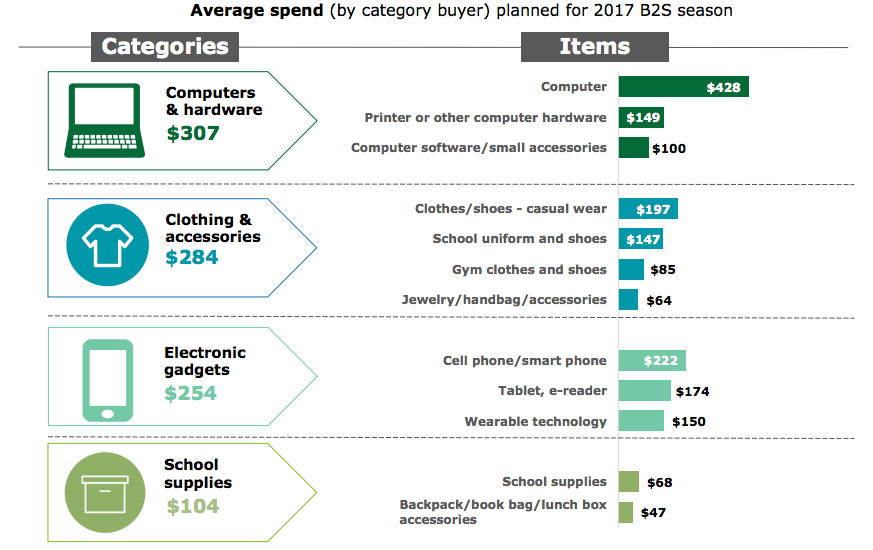 (Source)

School supplies
This doesn't come as a surprise. Students require many different kinds of school supplies on a daily basis. Pens and pencils, pencil cases, notebooks, folders and a variety of art supplies are just some examples of the items that fall under this category.
Clothing & accessories
Not all schools have mandatory school uniforms. And that means students have to think about their daily school attires. If your store has everyday clothing to offer, back to school shopping can definitely boost your sales.
Certain accessories, such as watches, glasses and scarves can be in great demand, too. Not to mention about bags and backpacks.
And don't forget about the gym wear!
Electronics
Students might need not only computers but certain hardware to go along with it, too (keyboards, external drives). And let's not forget mobile phones and tablets, as well as their accessories.
Last but not least in this category of goods – home appliances. Microwaves, kettles, washing machines or vacuum cleaners – all of these items could potentially end up on the shopping list of college students.
Homeware
Yet another category of items that tends to be in demand before the school year begins is homeware.
Alongside the standard items, such as desks and chairs, school-goers might also need a notice-board or an alarm clock. Other decorative or organizing pieces could come in handy as well.
For college students, it can be anything that might be needed in dorms. That could include pillows, blankets, storage organizers, hangers, plates, cutlery or even plants.
How to set up a last-minute back to school sale?
September is around the corner and in order to join the back to school sales bandwagon as a company, you don't have much time to develop an outstanding sales strategy. However, there still are a couple of things you should be able to put together. And so, without further ado, here are a few ideas on how to launch a last-minute sale to make the most out of the back to school craze.
1. Create a temporary back to school section on your website
Creating a separate page for back to school sale is a great idea as it helps shoppers to find the items they're looking for. So go through your store and see what could potentially be seen as back to school items.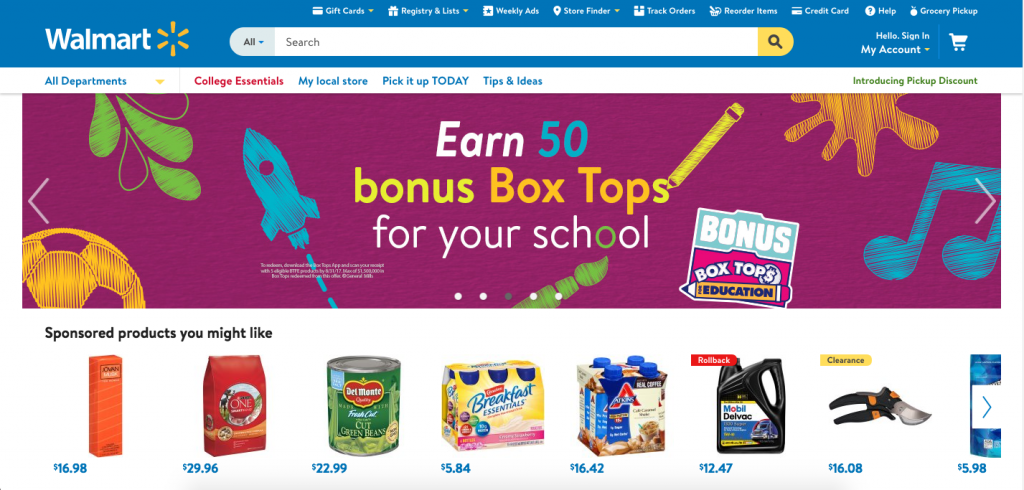 And be creative, match items that are related and often go together with one another. But most importantly, don't forget that they should be attractive not only to students but to parents, too, as they are the ones who will be paying for it.  So keep the current trends in mind but make sure products you are offering are also practical.
Once a separate page with the back to school sale is set, you have to start thinking how to get visitors to that particular page. A common practice is to display a banner on the landing page that takes users to the sale section.
Wholefoods does that to direct visitors to different pages that offer useful content about school lunchbox planning, easy recipes or nutrition facts.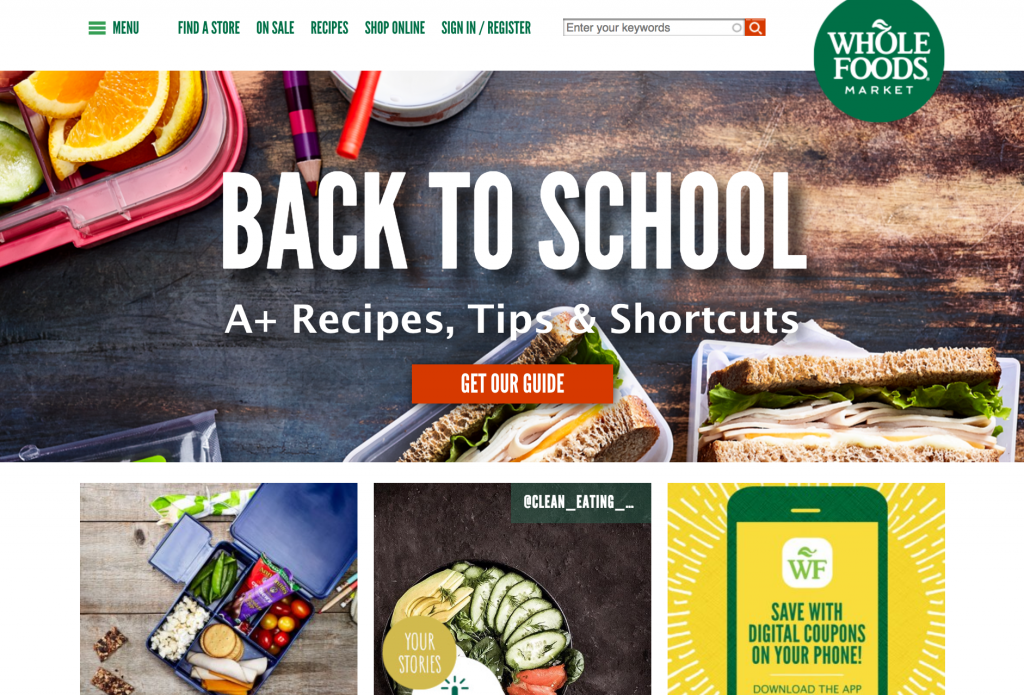 Another way to direct incoming website visitors to back to school sale or content section is by using promo bars or exit intent overlays.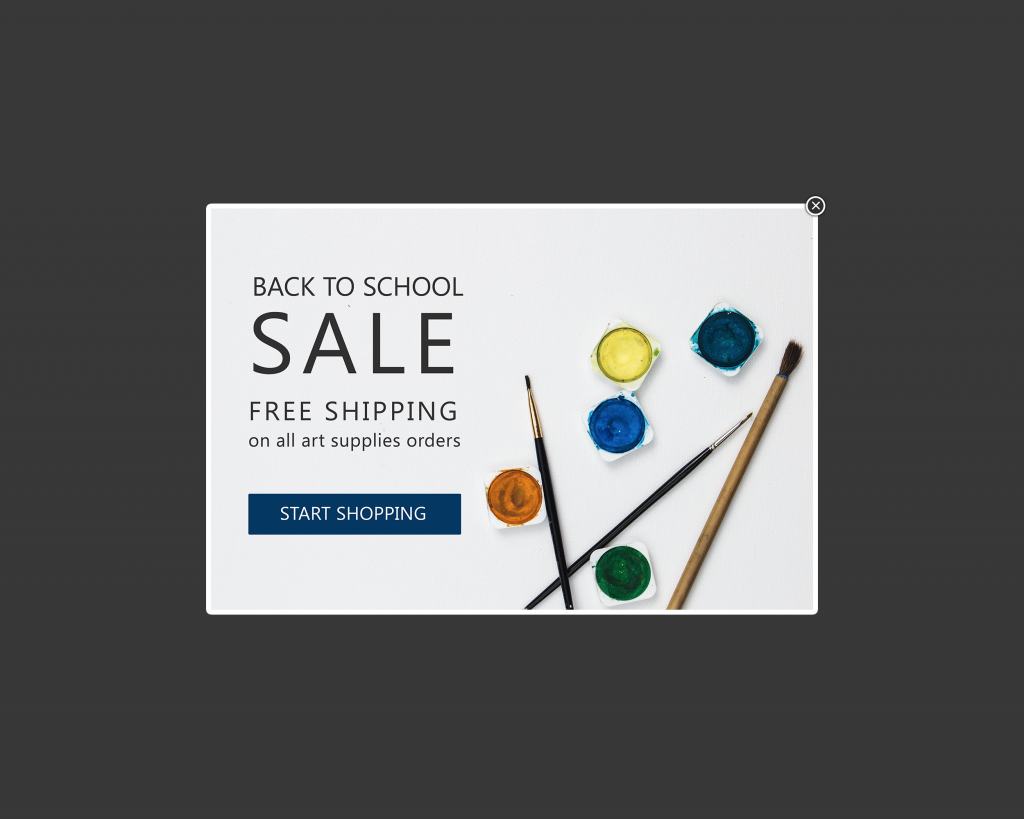 2. Notify users about the ongoing sale
What's the point of running a sale that nobody knows about? Even if you are short on time, you have to spread the news about your back to school sale if you want to make the most of this spending season.

Send a newsletter
This probably doesn't come as a surprise. Send out a well put-together email to your mailing list to announce the back to school sale.
Direct your subscribers to sales section on your website, or simply present your best offers in the email with links to pages from which they can purchase the goods.
Send push notification
While some of the emails end up in the SPAM folder of your subscriber's mailbox, push notifications appear right on their desktops.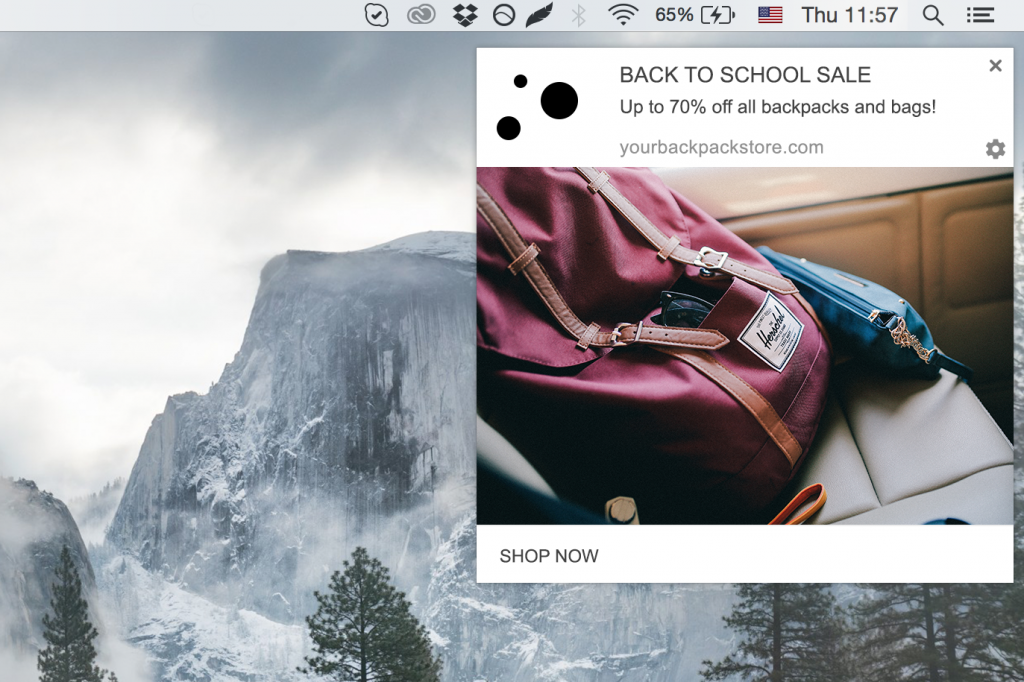 A simple message like this can bring up to 30% of your subscribers back to your website. Of course, the success of back to school campaigns is highly dependent on targeting and segmentation. The more personalized the offers or announcements you make – the better results you can expect.
And don't forget to make sure that users who are about to receive a notification from you, have time not only to read it but also to take the action you are encouraging them to take. That is why choosing the right timing is crucial. To learn more about timing and other factors that influence your success when planning out web push communication strategy, have a look at MaxTraffic's free ebook.
Share the news on social media
As a brand, you most likely have accounts on several social media platforms to connect with your customers. Publishing back to school related messages on these platforms is probably the fastest way to let your customers know about the ongoing sale or promotions.
Urban Outfitters post many pictures inspired by dorm-life on their Instagram account every other day.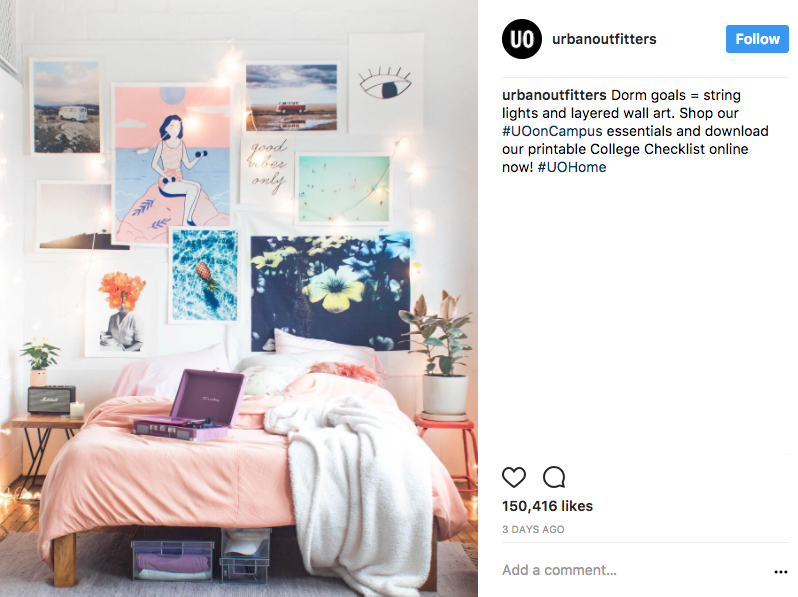 Follow an example and consider creating your own hashtags, or simply use existing ones to be discovered by new users, too.
3. Use paid ads
Alongside the posts on social media, consider spending some of your marketing budget on paid ads. This is especially important if you are late to join back to school sales game.
Depending on your budget, choose a channel that has the most potential.
4. Create Pinterest board
Now, you might be thinking, how can Pinterest board possibly help me boost my back to school sales? The answer is rather simple.
There are 150 million active Pinterest users every month, 81% of which are females. Moreover, the majority of active pinners are below the age of 40. Doesn't ring a bell yet? It's fair to say that an average Pinterest user can also be your target customer – a mother, who looks for ideas how to get her kids ready for school.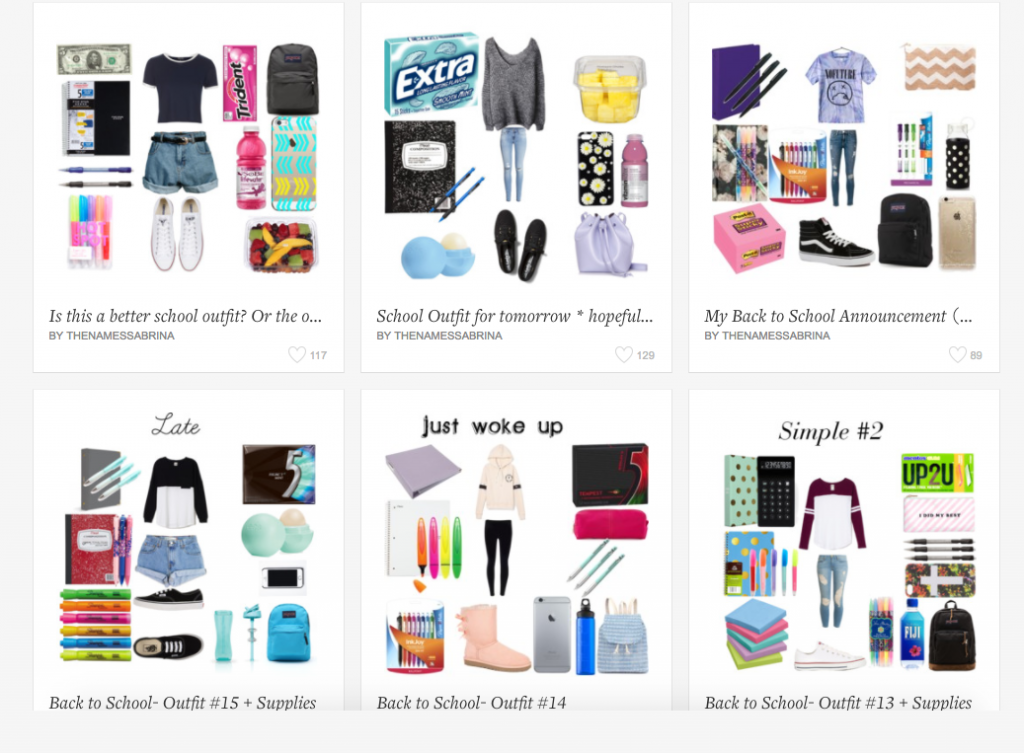 And one more thing – 93% of active pinners admitted they use Pinterest to plan their purchases. Moreover, 87% said they've purchased something because of Pinterest.
So go ahead, create a separate board with back to school items that can be found in your store. And don't forget to add direct links to these items, making it easy for the pinners to purchase them immediately!
5. Target mobile shoppers

In July 2016, 60% of back to school searches were done on mobile devices. And that means the online retail stores no longer can afford the luxury of ignoring customers who prefer shopping on mobile.

First of all, make sure your website is mobile friendly. Very roughly said, this means that the way your website displays on the small mobile screen differs from the way it is displayed on the much bigger computer screen. While many things might change in terms of size, or be taken away completely, the most important features that remain on the small screen, are much more convenient to use.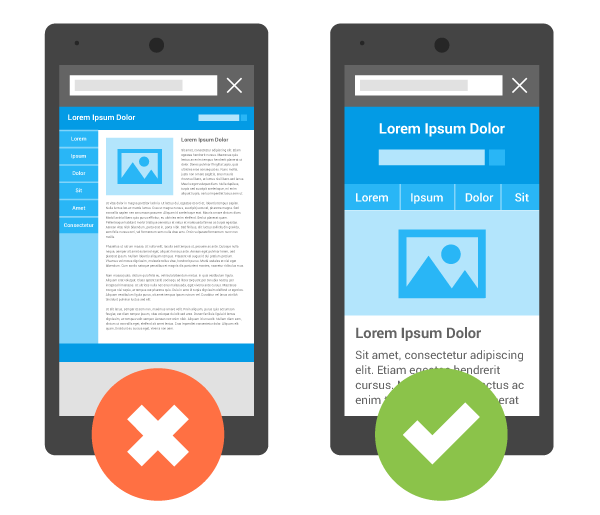 Why is it so important? As we already know, websites that are difficult to access and navigate tend to convert worse than the ones which are user-friendly. The same can be said about websites accessed through mobile devices.

If you are not sure whether your website is mobile friendly or not, take Google mobile-friendly test to find out.
Second, if you are using different CRO tools, such as promo bars or exit intent popups, make sure you target mobile device users too.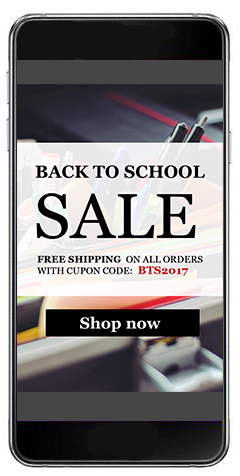 Last but not least, don't forget to optimize SEO for mobile.
6. Reach out to influencers
Influencer marketing is becoming more and more popular as it helps marketers reach target audiences in more effective, authentic, and affordable ways.
A quick brand mention in a video, tweet or blog post, or well put together Instagram or Facebook post can bring new traffic to your website and significantly boost sales. But to attain that, make sure you are reaching out to influencers whose followers are also your target audience.
For example, if you have online clothing store – connect with influencers who speak about fashion. Instead, if you are selling art supplies, reach out to an artist with strong online presence.  
Don't forget college students
Back to school spending is big, but back-to-college is even bigger! That's why you shouldn't forget to target the college students too.
School supplies, clothing, and electronic devices are just a small part of items college students are willing to spend on. Dorm furnishing and decorating are just as important. Not to mention various subscription services such as internet, TV or music.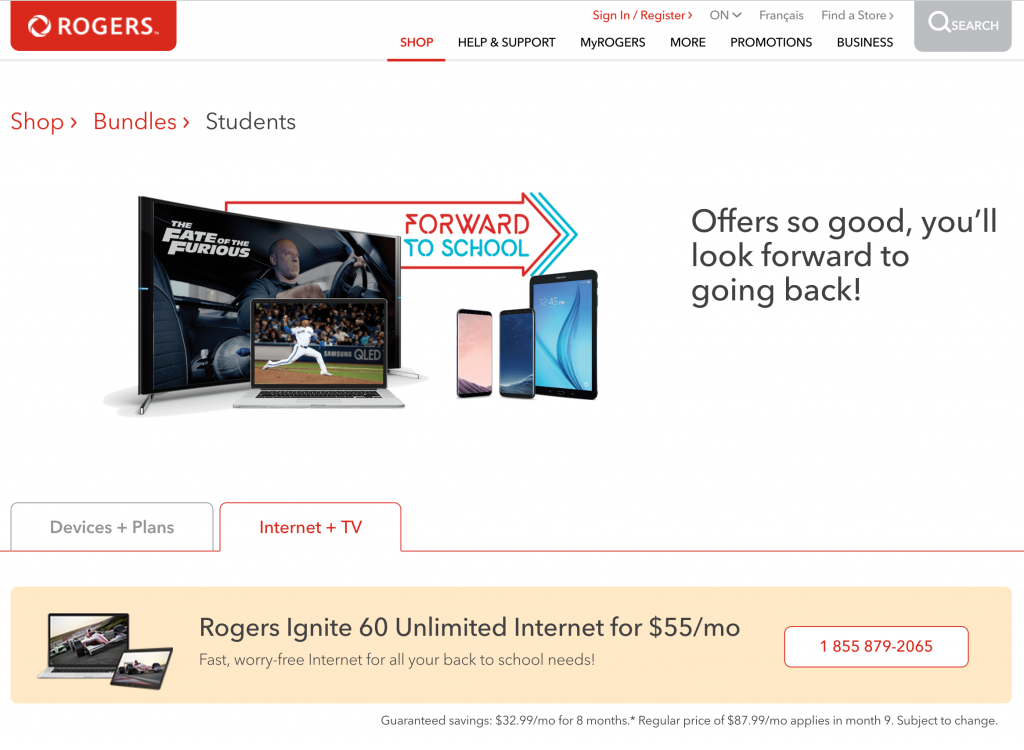 Also, some college students might be in a need of different computer software.
Back to school is one of the biggest spending seasons and your business simply cannot afford to miss out on this opportunity to retain customers and boost sales.
Whichever approach to this seasonal madness you will decide to take, focus not only on great deals but also on creating a pleasant shopping experience for the customers. By the end of the day, you want customers to purchase from you all year round.