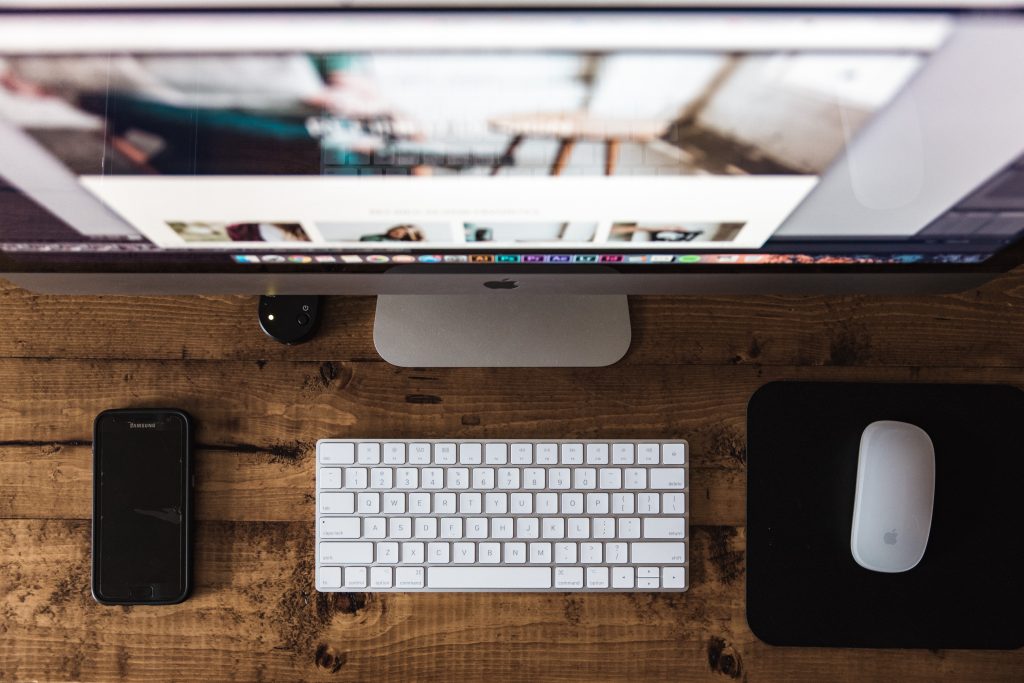 Digital customer experience today is far more complex than it used to be. Some time ago it was enough for a business to have a functioning website. However, these days customers expect all-around great and seamless experience with a brand across several different digital channels.
Understanding digital customer experience
Digital customer experience focuses on any kind of interaction a customer might have with a company on various digital platforms. It can be anything from researching a product online, using a mobile app to find the nearest store, to receiving an email from customer support team, you name it.
It's important to understand, however, that digital customer experience is only a part of the overall user experience. It intensely focuses on meeting customer expectations by fully utilizing data about customers gathered from different digital channels.
Delivering outstanding digital customer experience
The truth is customers don't divide their experience into digital and non-digital categories. The only thing they really care about is being able to access information in the most convenient way, regardless of a channel.
As a company, you have to think of the ways how your customer interacts with your business on a variety of digital channels. Not only that, you want to make sure this interaction is as pleasant and easy as possible. At the end of the day, a consistent digital experience is exactly what builds customer loyalty and trust.
1. Understand your customer
You won't be able to deliver outstanding digital customer experience if you know nothing to little about your customers. In fact, knowing is not enough, you need to truly understand them. And here a few ideas how you can do it:
1.1 Put yourself in your customer's shoes
Customer's perception of your business is often a reason why some of your customers choose to stick around while others, decide to go. So it goes without saying that in order to understand your customers, you will first need to put yourself in their shoes.
Go through every digital channel your business uses to connect with the customers and prospects and try to answer yourself questions like:
Is it clear what your business has to offer?

Are your website pages loading fast enough?

How accessible is general information about your business?

Are all the website elements are functioning properly?

How responsive are you on social media?

How pleasant is the experience at the shopping cart?
… and similar.
Unless you are coming from a place of genuinely understanding and wanting to help your customers, you won't succeed in delivering pleasant digital customer experience. And that can directly result in you being unable to drive more revenue for your business.
1.2 Create buyer personas
Long live the times when knowing general demographics of your customers were enough to create sales or marketing copy that brings results. Today you need to know far more than age, gender, and occupation of your customer in order to connect with them on an emotional level. Not to mention making customers trust you with their time and money.
For this reason, you should seriously consider creating buyer personas. Describing these semi-fictional identities of your ideal customers will help you pin down the real needs of your existing customers and prospects. What is more, with buyer personas in mind, you can not only develop a better product or communication strategy but also have a better understanding what kind of experience with a brand your customer is expecting.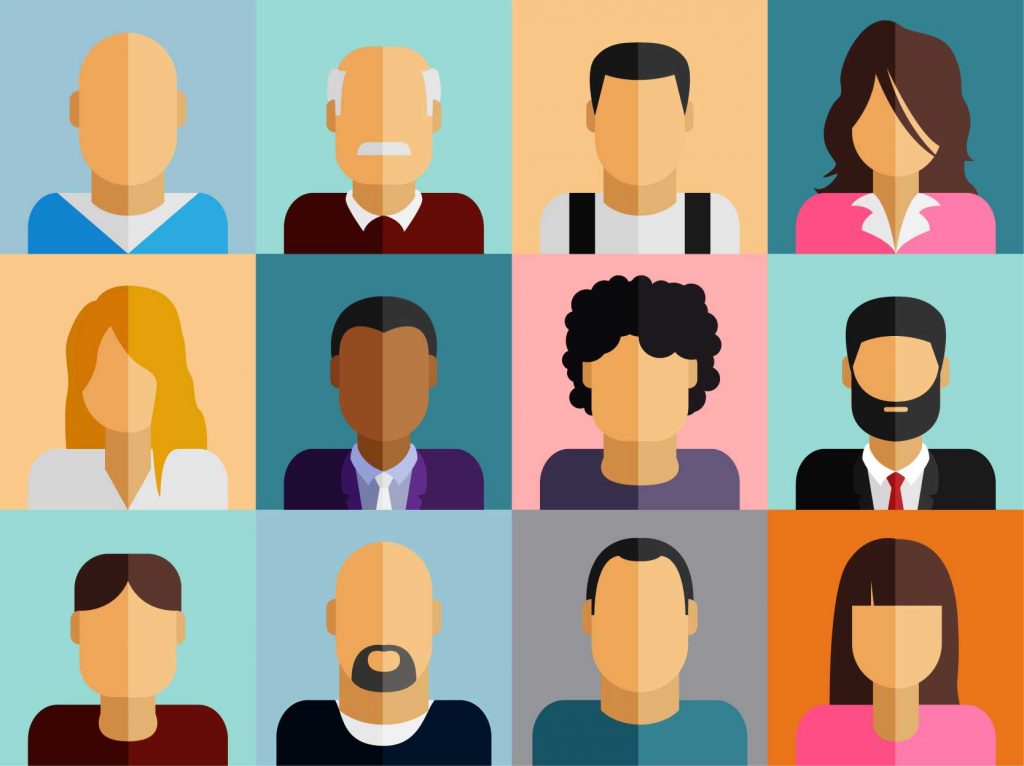 Pinning down your buyer personas requires you to take a closer look not only at customer demographics, but on behavior patterns, motivations, and goals too. In fact, the more detailed you are, the better.
1.3 Track on-site customer behavior
Start gathering and carefully analyzing on-site customer behavior data to determine how users interact with your website if you haven't already. All of this information can encourage making meaningful changes to your website or adjusting your marketing efforts that can result in an improved digital experience for the customers.
For example, you might discover that visitors have trouble getting to a certain sales pages. This knowledge gives you a chance to make changes to the interface and deliver more user-friendly shopping or browsing experience. Or perhaps you noticed that users tend to spend more time on a certain page than others. Carefully analyze this particular page and try to understand what is keeping your customer's attention. It would also be useful to find out which pages have high bounce rate. These particular pages require your immediate attention because they are pushing your visitors away.
2. Have an excellent website
Even though your website might not be the starting point of your customer's journey, it eventually comes into the picture. You see, most of the times, a website is a place where customers convert. And for that reason, you want your website to be informative and have a cohesive and attractive look. But most importantly, you want your website to be functional. All of that is crucial in delivering outstanding digital customer experience.
Creating an excellent website is a journey of continuous improvements. But before you start perfecting all the small details, you need to get the following three things right.
2.1 Website design
Studies show that incoming visitors evaluate your website in a matter of 7 seconds, which means your website has little time to achieve big results. So it's fair to say that dodgy illustrations, low-quality images, and flashing colors are doing no good for your website.
Keep in mind that a good website design is built around a theme that matches its market but at the same time is able to stand out from competitors and communicate its personality.
2.2 Website functionality
Responsive website design can ease the navigation on your website regardless of the device it is being viewed on. That's right, your visitors should be able to find everything they need quick and easy. If they have to wander around the site trying to find what they come for, they will get frustrated and leave.
A simple, intuitive, and most importantly functional navigation plays an important role in customer experience. Not to mention that it can be crucial in setting your website apart from the competition.
2.3 Website speed
Let's assume that your website is intact, it's aesthetically pleasing and functional. What next? Load speed. High-quality graphical elements tend to slow down page loading time which can negatively affect customer experience.
Take all the necessary precaution to assure your website loads rapidly and precisely each and every time. Perhaps you need to reduce the number of redirects to other pages, optimize images or reduce the size of your CSS, HTML, and JavaScript files.
3. Master the art of personalization and automation
In the world of online business, it's never been easier to ensure your marketing efforts are delivered in a timely, personalized and consistent manner. By using personal and behavioral data of your customers, you can segment them specifically based on their interests and activities, delivering only relevant messages and creating an exceptional digital customer experience.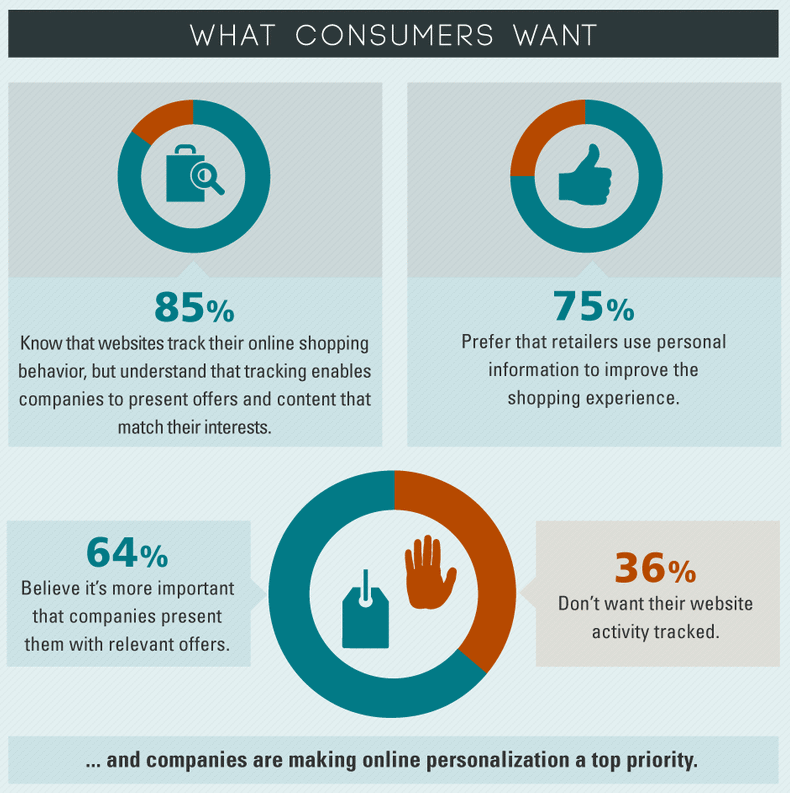 Source: Shopify
Marketing personalization and automation allow a wide spectrum of activities. From sending card abandonment web push notifications, creating drip email campaigns to nurture your leads, to delivering personalized birthday congratulations.
As a matter of fact, you don't necessarily have to worry about gathering and utilizing data about your customers. There are heaps of marketing automation platforms that would be willing to do that for you. Most importantly, these platforms can offer you tools that help communicate with your customers in the most effective way possible.
Now you might be thinking that personalization can do no harm. However, there is a thin line between letting your customers know you understand them and violating their privacy.
Do you remember the story how Target figured out a teen girl was pregnant before her father did? It is a perfect example of ingenious marketing personalization that went a little too far. Incidents like this can become a public relation disaster when it touches such sensitive topics as pregnancy. The main takeaway from this story is simple, personalize your marketing efforts the best you can but know when too much is too much.
4. Support cross-channel needs
These days customers are using several different channels throughout their shopping experience. And it's nothing new or surprising and chances are, you probably have already noticed this if you ever were seriously analyzing your customer journey.
The correct term that describes the experience of a customer who uses a combination of several different channels to make a purchase is cross-channel shopping. To understand this concept better, let's take a look at a couple possible cross-channel purchasing scenarios.
Internet store offers "Click & Collect" shopping option. It allows customers to order goods online and instead of waiting for it to be delivered, pick them up in-store.

A customer finds a clothing item on the website but decides to try it on in a store before taking a plunge. He checks the item but is not completely confident about the purchase. He thinks about it later at home and eventually orders it.

A customer receiv

es an email with a coupon code. He compares the prices of the same item on several different shops and decides to redeem the coupon by placing an order using store's mobile app.

Cross-channel integration in retails means delivering desired convenience to the customers. When it exclusively comes to digital customer experience, cross-channel needs can be supported by creating a common IT backbone:
"If a retailer's channels are to be truly integrated, they must be linked to a single IT backbone with a dedicated cross-channel integration layer. The idea is to provide visibility and a seamless experience across channels, so that, for instance, customers checking the website can determine the availability (and the quantity available) of an item in the store." – Strategy&
Another thing to keep in mind is that with time, the importance of analytics is only going to increase and it eventually will be used to improve every part of the online business.
"The idea is to make intelligent product suggestions à la Amazon, except to do it across channels — for instance, to use mobile location services to make an offer when a customer is in a mall, or to use e-mail to make a special, related online offer to a customer who has just bought something offline." – Strategy&
Shopping expectations of a customer have changed dramatically over the last few years. It's important to understand that channels are not in competition anymore, they are actually becoming complementary.  So, the sooner you as a retailer embrace this chance, the better.
5. Be fast
It's not a secret that window shoppers are impatient. That's why you need to understand the importance of bringing the user to a quick resolution.
We have already spoken about page load speed but truth is, it's just a tip of the iceberg. You need to think bigger. In e-commerce especially, being fast means easy profile creation process, responsive customer support, and fast shopping experience.
A great example of that is 1-Click Ordering option available on Amazon. When shopper places his first order and enters a payment method as well as shipping address, 1-Click ordering is automatically enabled for him. Later on, when shopping, customer can choose either "Add to Cart" or "Buy now with 1-Click".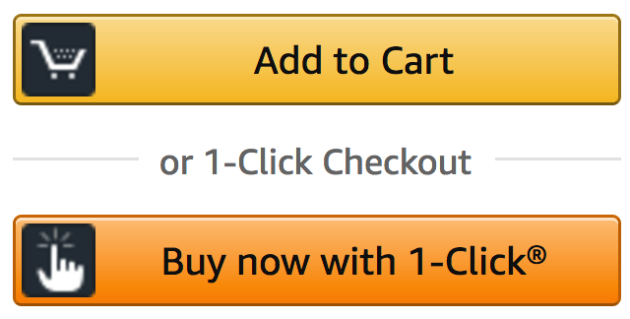 Source: GeekWire
If the latter is chosen, customer's order is automatically charged to the payment method and shipped to the address associated with his 1-Click settings. It's fair to say that for someone who shops on Amazon regularly, this purchasing method can save loads of time and that makes the overall experience more pleasant too.
Don't put customers' patience to test. Look around your website and think what else could be done to make the browsing or shopping experience quicker and easier.
6. Focus on information needs of your audience
In the nearest future, most purchases will be made online or at least will involve online research through different digital channels. This means that customers' interaction with a company will rest on the content he stumbles upon, let it be a blogpost answering his question or a video explaining how to make the most of product or service offered.
By creating and sharing content that meets customers' information needs marketers can ease their customers' life or purchasing decision. Moreover, customer engagement with a brand that is driven by the content consumption helps to establish brand's validity. It also builds trust and customer loyalty. Finally, creating outstanding content increases mindshare and can attract more qualitative leads.

Valuable content comes in many different forms. It allows marketers nurture relationships with the customers at any stage of the sales funnel. The most popular content forms are:
e-books,

researches,

case studies,

checklists,

videos,

podcasts,

infographics,

tutorials,

consultations,

webinars,

online courses.
Every piece of content you choose create and share must be relatable and relevant to customers in an obvious way. Whatever you decide to create, make it easily accessible for anyone who might be interested. And don't forget to share your knowledge on social media, online communities, groups and forums.
Finally…
In the world of internet, customers expect pleasant and cohesive experience when doing business with any company online. And truth is, with a great number of tools and communication channels at anyone's disposal, your business is expected to deliver outstanding digital customer experience too.
It's important to understand that digital customer experience needs constant nurturing and care. Therefore, you need to fully utilize the data provided by digital channels you use to connect with your audience, in order to create a strategy that is immensely focused on a customer. Only the companies that manage to achieve that will see a positive change in customer loyalty, increased retention and revenue.