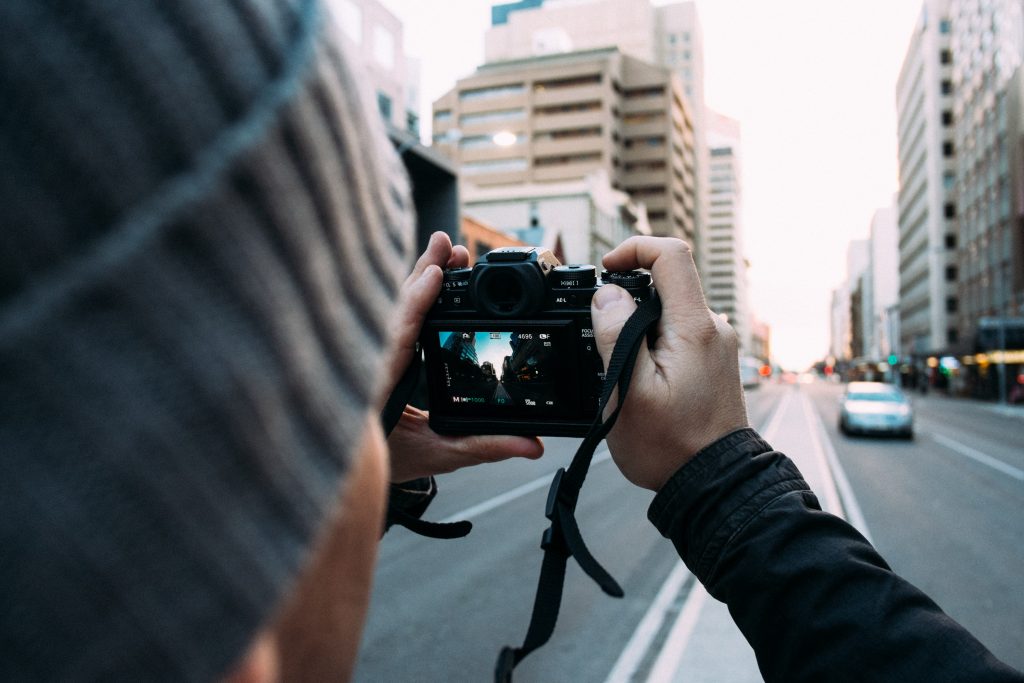 Influencer marketing took the last couple of years by storm and became a buzzword in digital marketing conversations, leaving those who haven't joined the bandwagon behind.
According to the recent report by Linqia, 86% of marketers are already working with influencers and 94% of them find this marketing approach effective.
[toc]
Understanding influencer marketing
Influencer marketing is a form of marketing that allows brands to present their goods to audiences through opinion leaders. In other words, instead of marketing directly to the end customers, brands choose to work with influencers who are introducing goods or services of that brand to their followers in word of mouth manner.
1. Who can be an influencer?
Influencer can be anyone who has strong internet presence and authority to influence the behavior and opinion of their audience. The influence of this person is usually measured by the size of his following audience as well as by the user engagement with the produced content.
2. Example of how influencer marketing works
Let's say your company sells activewear (from clothes to accessories) and you have just launched a new collection. As usual, with the launch of new collection, your marketing team is looking for effective ways how to reach your target audience and boost the sales. And so someone in your marketing team suggested getting in touch with active lifestyle or travel social media influencers and spreading the word about your new collection through them.
It's indeed likely that followers of these individual will be interested in your clothing line, as they are already following and trusting the opinion of these influencers. So, you decide to offer influencer to try some of your goods. In exchange, you ask them to share their opinion about your brand and products with their followers.
If your product is great, influencer will most definitely endorse your products to the followers, encouraging them to visit your website or even shop from you. And that is influencer marketing in a nutshell.
3. What makes influencer marketing so effective?
Amongst many reasons why influencer marketing is so effective, the following three seem to be the most important:
Your marketing efforts are directed to your target audience.

As you are approaching niche influencers you are likely to hit a jackpot and get your product introduced to the audience that could be potentially interested in what your brand has to offer.

You are making your products more visible on social media.

71% of consumers

agree that they are more likely to make a purchase based on a reference they came upon on social media.

Your products are reviewed and endorsed by people whose opinions matter.

In fact,

88% of consumers

claim to trust online reviews as much as personal recommendations. Moreover,

teenage YouTube subscribers (70%)

trust influencer opinions over traditional celebrities.
Starting your first influencer marketing campaign
If you haven't run influencer marketing campaign before – don't worry, it's not that complicated. However, there are still a couple of things you simply cannot overlook. And to avoid some bumps along the way, follow this 7 step guide to influencer marketing for rookies.
1. Understand online behavior of your target audience
Thing is, in order to ensure the success of influence marketing campaign, you will need to pin down online behavior of your target audience beforehand.
Think what are the social media platforms on which your target audience spends the most time? And on which are they the most active?
Does your audience spend a lot of time watching videos on YouTube? Or perhaps it is more active on Snapchat and Instagram? Also think about the social media platforms your customers use on daily basis to consume information, entertain themselves or get inspired.
All of this knowledge will be useful later on in the process when you will be choosing which influencer to approach and which social media platforms to target to achieve your goals.
2. Clearly define the goal of your influencer marketing campaign
If you want to kick-start your influencer marketing campaigns, make sure you have a clear goal of what you want to achieve with it. Most commonly brands partner up with influencers to:
introduce new products or services;

promote products or services to grow brand awareness;

promote an event;

manage crisis.
To make the campaign success assessment easier, attach some key performance indicators (KPI) to each of these goals.  Most commonly, companies that have ran influencer marketing campaigns before used the following indicators to measure the success of their marketing efforts.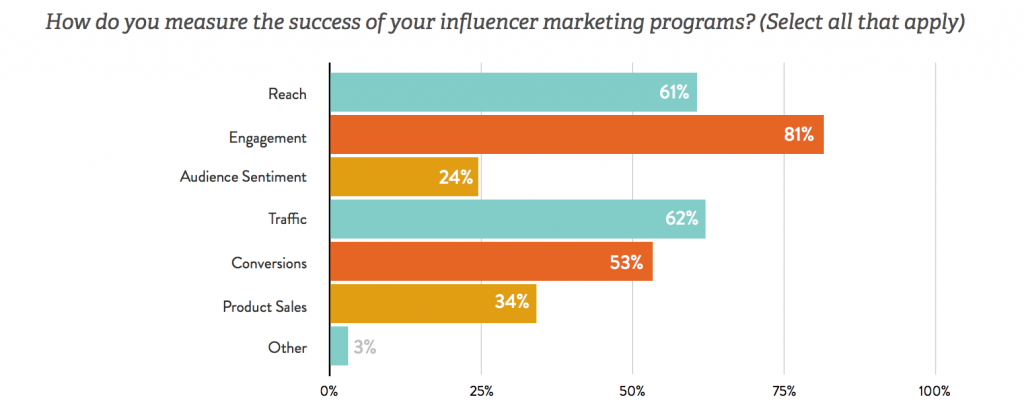 (Source: Linqia)
3. Find right influencers
This step is very important. There are so many influencers out there but in order to achieve your goals you need to get in touch with the right ones for you.
3.1 Go niche
Working with A-class celebrities would do wonders for your brand. But let's be realistic, the odds of getting hold of these influencers is beyond your reach for three simple reasons:
(1) There are far too many brands approaching them. That's why the chances of getting noticed are slim.
(2) Most of their social media accounts are managed by the team of professionals. And that means that you won't be able to get in touch and establish a personal relationship with the actual person.
(3) You probably will need to spare more cash than you intended to incentify these influencers.
That's why, instead of chasing big names, go niche. Remember that influence isn't about the size. It's about the trust between a person and their audience.
Beverage brewing system Keurig has recently been working with a number of niche influncers to promote their coffee makers to wider audiences.
Here is a photographer from Seattle enjoying her cuppa of Keurig and sharing her experience with almost 11 thousand followers.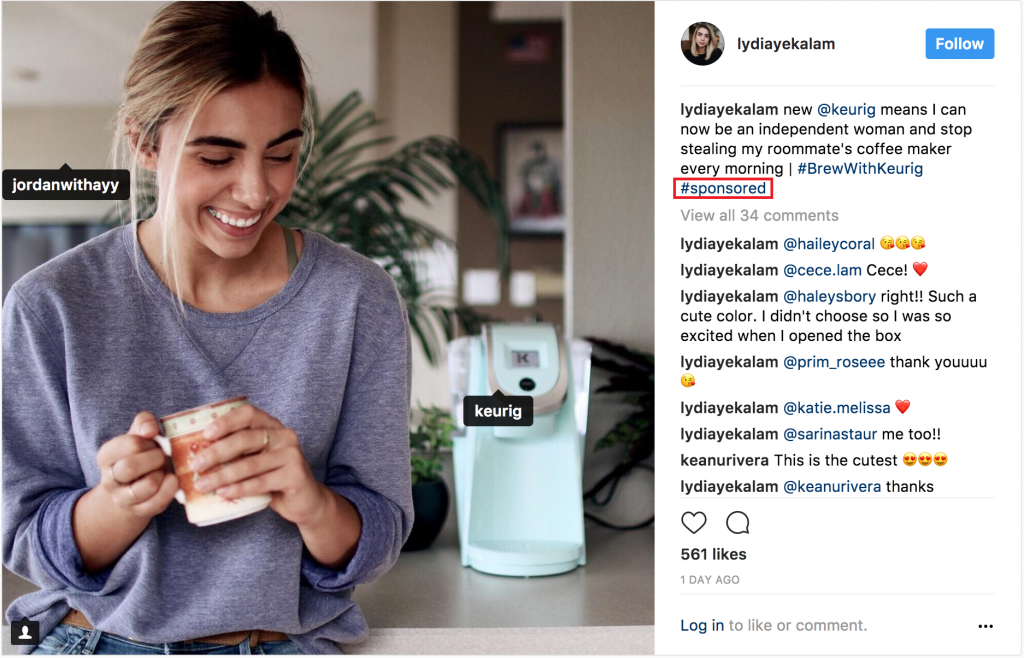 Book lovers that can't go a day without coffee were involved too.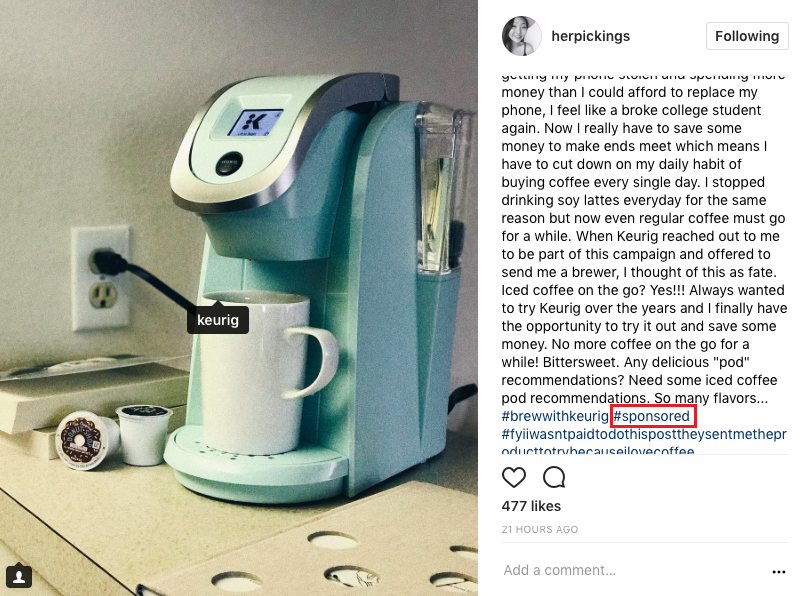 Lifestyle, fashion and beauty influencer haven't been forgotten either. Here's a fashion blogger sharing thoughts on Keurig with 10 thousand followers.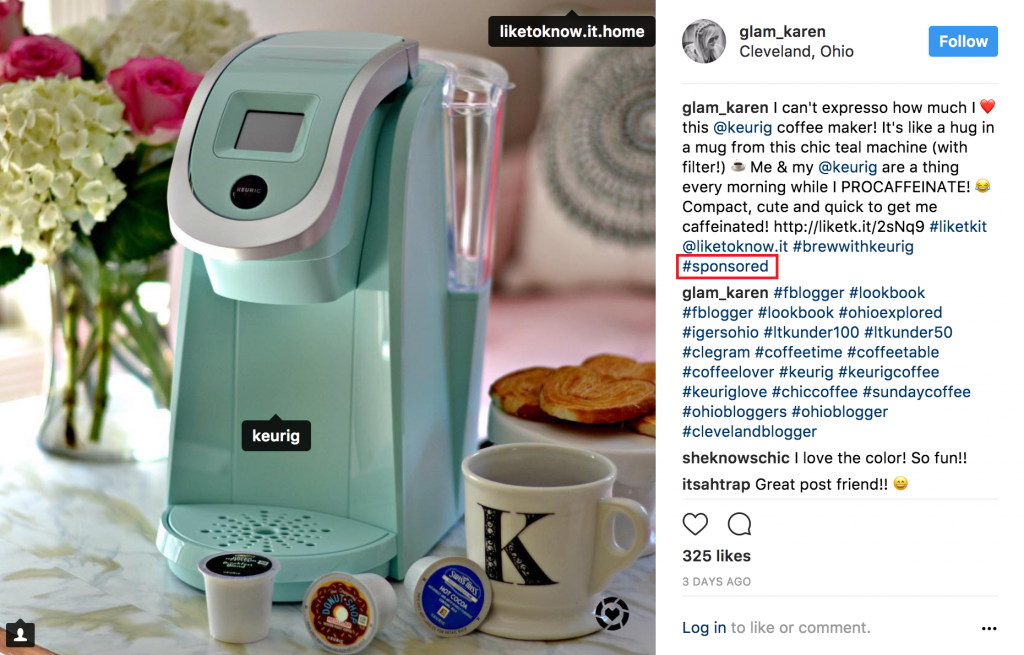 Working with a couple of smaller influencers who have followers that engage content on daily basis can be way more effective than placing all your bets on one big name. Not to mention that this approach is more cost friendly.
3.2 Use different tools to discover influencers
In order to find niche influencers you might need to do a little digging. The great news is there are a number of tools available that will save your time and make this search easier. So let's look into a few of these tools.
GroupHigh is blog/influencer search engine that claims to "search 15 million blogs to find the best bloggers for your next campaign by content, social followers, location, and MozRank".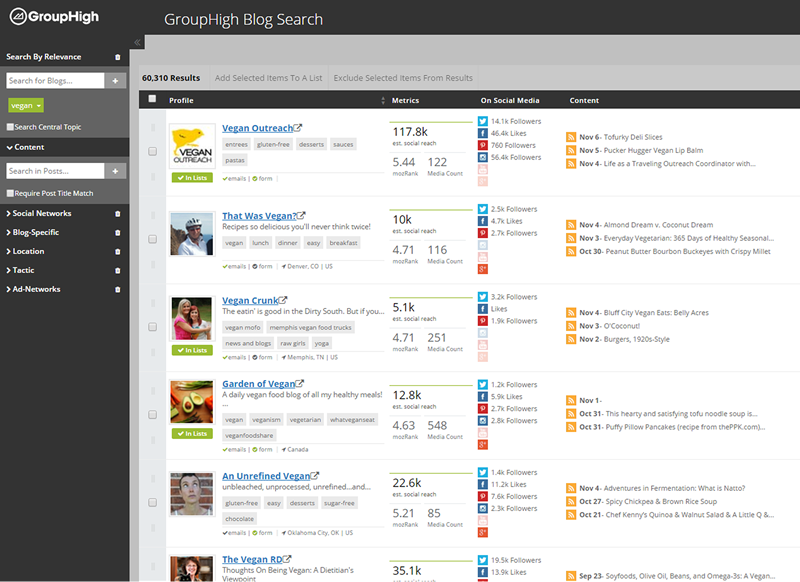 You can also use BuzzSumo. It's a content research tool that also can help you find right influencers. Just hit that "Influencers" tab and start looking.
To find the best candidate, carefully study the report that comes with the search and gives a better insight on the actual influence certain individual has.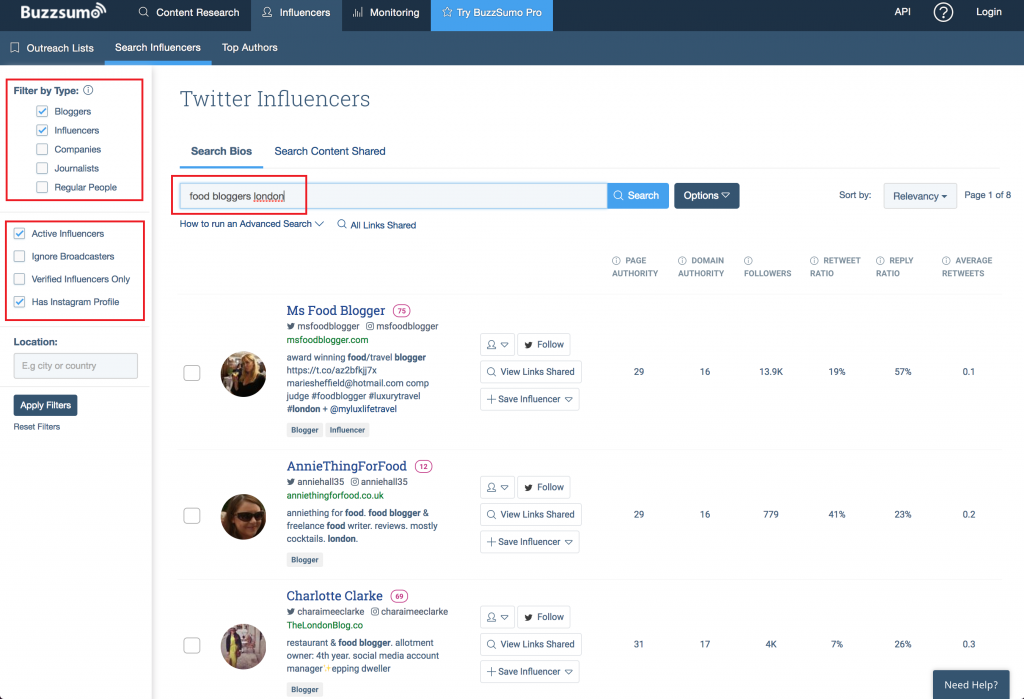 The higher page and domain authority your selected influencer has, the higher his content will appear on the search page. And if you are more interested in social media influencers, pay attention not only to a number of followers but also to retweet and reply ratio, average retweet number.
If you are Twitter obsessed, give FollowerWonk a go. To find influencers with a strong presence on Twitter, hit "Search Bios" tab and click "more options" to enable advanced search option.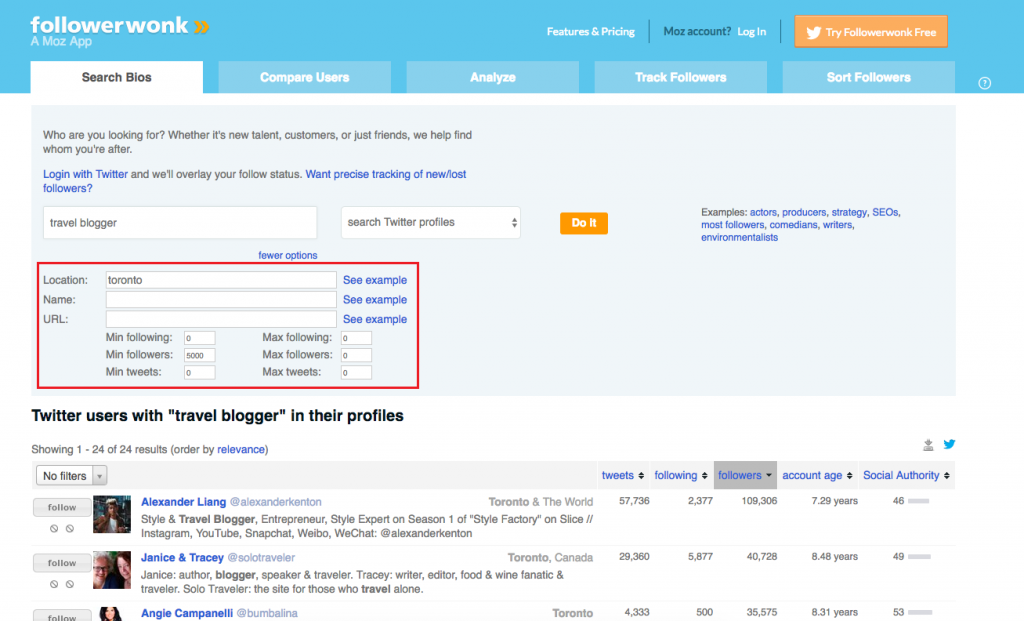 Use keywords to define industry or topic you want the influencer to be related to. It would also be smart to define a minimum number of followers influencer should have. Other times you might need to find someone around you and for that look for certain influencers by their location.
! Extra tip!
If you want to hit a jackpot and find real Twitter influencer, pay attention to Social Authority score of the profiles that come with your search. Social Authority is a 1 to 100 point scale that measures a user's influential content on Twitter. The higher the better!
4. Get familiar with their content
A common rookie mistake is approaching the influencer without even properly looking into the content he produces. Without getting familiar with it, you will have hard times understanding their audience and it's true needs. That's why, read their blogposts, watch videos, listen to podcasts, whatever it is they produce, consume it.
Doing this will allow you to understand whether your brand and certain influencer have anything in common. Let it be a manner of speech, shared values or simply interests. Most importantly, their content will help you pin down what is their audience like.  After all, the reason you are willing to work with the influencer in the first place is to tap into that audience.
! Extra tip !
Pay attention to how often influencer is collaborating with other brands. If almost every piece of content he puts out is sponsored, second think your decision to approach the influencer. Why?
Studies show that customers trust the recommendations of the influencer the same whether it is sponsored or organic. However, feed that is overly-saturated with sponsored content can leave an impression that influencer is endorsing every brand that approaches him. You would much rather want to work with influencer that respects his audience and chooses to endorse only those brands and products that he trusts to be interesting and useful for his followers.
5. Decide on incentives you can offer to the influencers
It goes without saying that you have to give in order to get. And that means that you most probably will to allocate some part of your marketing budget to influencer marketing campaign.
Speaking of payments, influencers are usually offered two types of rewards: branded or monetary. Let's quickly look into the two.
Branded reward
This type of reward is directly connected to the goods or services the company has to offer to the market.
Product based.

This type of branded reward can come in the form of a discount, gift card, product giveaway, you name it.

Service or experience based.

Brands that offer different services tend to let influencers use extended trial or even forever free plan of their services. Other times, companies take influencers on trips or invite them to participate in different activities that are related to company's profile.
Monetary reward
Even though most of the influencers are fine with branded rewards, other might ask you to pay for their service in cash. But how does the brand now how much the influence of certain person costs? Well, there are different pricing models brands use to make sure both sides are satisfied with the campaign results.
Pay per post or video

. Influencer is paid a flat rate for creating and publishing a piece of content, let it be a tweet, a photo, a video or a blog post.

Cost per engagement (CPE)

. Influencer is rewarded based on the number of engagements his content generated (likes, shares, retweets).

Cost per click (CPC)

. Influencers get paid for consumers who have taken an action after being inspired by his content (typically being directed to the LP of the brand from the link added under sponsored content).

Cost per acquisition (CPA)

. Influencers get a percentage based on the number of sales or subscriptions, sign-ups they content has driven.
Marketers that are already working with influencers find that the most effective pricing models are CPE and CPC.

(Source: Linqia)
However, it's completely up to you to decide which pricing model to choose. By the end of the day you are the one who knows the goal of your influencer marketing campaign and how to measure the success of it.
! Extra tip!
To maintain the transparency between your brand, influencer, and his audience always disclose your partnership. The truth is, customers don't mind seeing sponsored content as long as they know about it. However, if sponsorship isn't disclosed, customers feel betrayed.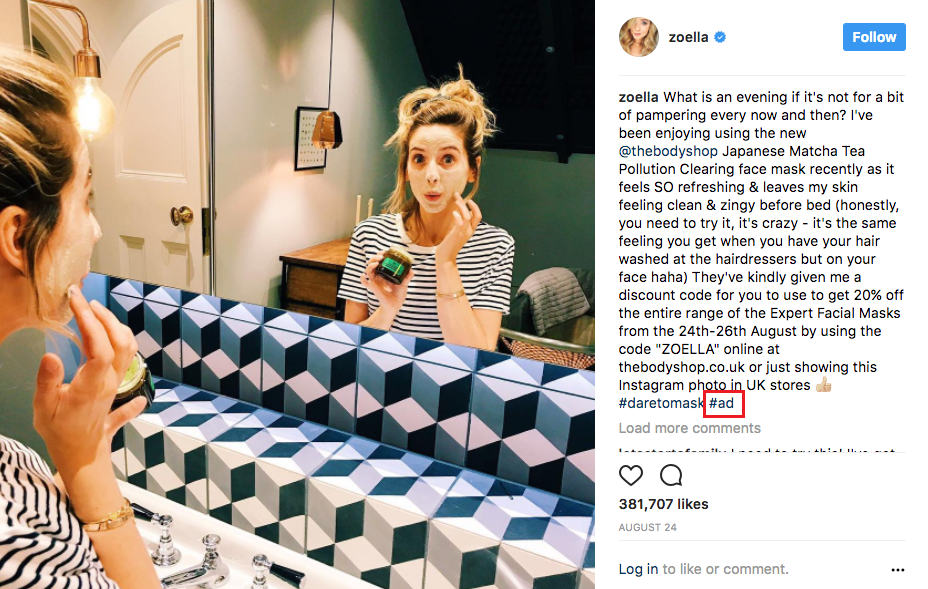 Influencers can disclose their collaboration with a brand by using certain hashtags or stating it in the content itself.
6. Reach out to influencers to present your idea
Every influencer is different. One might like to keep communication with brands more official, other might prefer building the relationship first. For that reason, carefully tailor your pitch to each  individual influencer but generally, try to keep the following three points in mind:
Explain the benefits.

Instead of speaking of how influencer could help your brand, speak of what in it for him: opportunity to try new product before its launch, a paid trip to Southern Italy, discount codes for the followers, you name it.

Be specific.

Influencers, just like you, are busy people. And the truth is they probably don't have time for lengthy emails full of vague ideas and promises. That's why try to make your speech short and clear.

Create deadlines.

Let influencers know the specific time frame of participation. Knowing that will help them decide whether they actually have time to squeeze into their daily routines to work with you. Moreover, deadlines create a sense of urgency, encouraging influencer to react faster to the proposed opportunity.
! Extra tip!
If you are well familiar with the content influencers put out (which you definitely should), let them know about it in a delicate manner. Instead of mentioning a fact from the latest post or video he has published, speak of his personal interests or experiences that you got to learn about from his previous content.
Personal touch to the message can help you stand out from a number of automated emails influencers receive daily.
7. Measure the success of your influencer marketing campaign
Measuring the results of your campaign is a crucial step, as it allows you to understand whether or not your efforts were successful. It can also give clues of what could be improved next time. So where to start?
Add a unique UTM tag to every link to your website that influencer will be providing within his content. Doing that will help you identify traffic and sales driven by each influencer or campaign. Once the campaign is over, check referral sources in Google Analytics. See which mediums are referring the most traffic to your website. Depending on your KPIs, you should be able to pin down measure the number of:
new subscribers;

sign ups;

downloads;

orders;

incoming traffic.
And if your influencer marketing campaign is more oriented towards recognition and growth on social media, measure the change in a number of:
followers;

mentions;

comments, likes and shares.
Now it's your time to match the results with the goals you've set. And whether you have achieved the desired result or not, always think of what could be done better next time.
Over the last couple of years, influencer marketing has proved to be an important and worthwhile strategy to get your brand and its' products noticed and wanted. So wait no more, start planning your very first influencer marketing campaign today, and let us know how it goes!