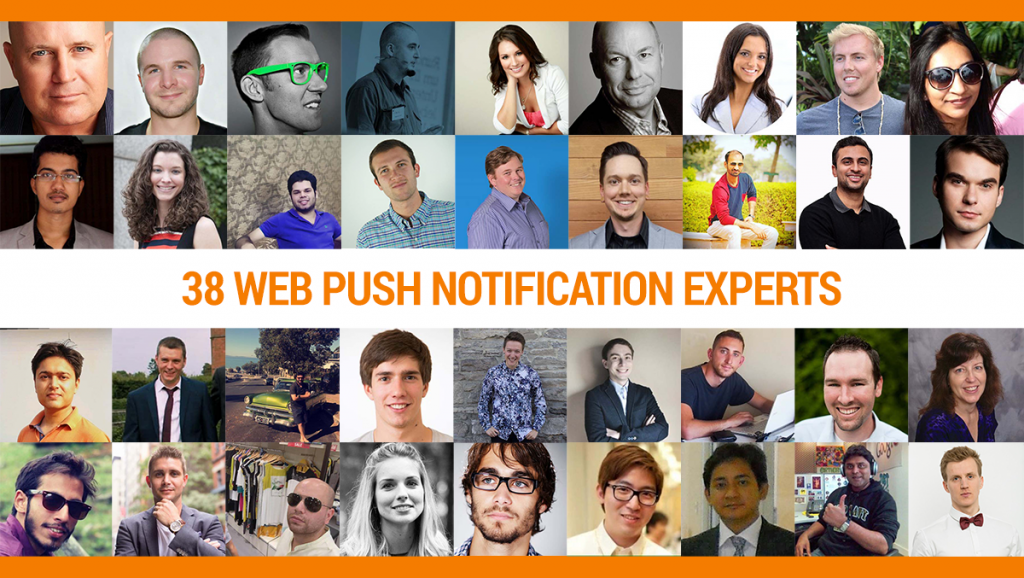 There are very few people in the marketing space who actually know how to use web push notifications to get the best results.
Browser push notifications have been around the block for quite a while but very few of us actually know why they should be used and what purpose they serve.
So we asked the top marketing experts, influencers and World Wide Web superstars.
We left no stone unturned on the quest to figure out – How to use web push notifications to get the best results?
We surveyed 38 experts and combined all the findings in easy to view infographic that you can find at the end of the article.
Without further ado, the experts:
I started using push notification on my blog around 3-4 months back. At first, I was hesitant to use it,  but once I started using it, the results were miraculous. 
Here is the psychology why they work like a charm.
When there is a push notification on any blog, it's up to the reader whether they want to opt for it or not. Once they decide to get the notification, you win half of the game to win their trust. They trust your brand, they trust your authenticity, that's why they are opting for the push notifications.Right now, I have more than 2000 subscribers in my push notification service.It's much better version than sending an email.
In email, the user needs to login in to their account and find you in their inbox. In many of the cases, it could be buried under many emails in his/her inbox. But comparatively, when you send a push notification, it's instant. Doesn't matter what your reader is doing, he/she sees an instant pop-up in his/her desktop/laptop.This increases the CTR and ultimately you see more sales.I use push notifications only when there is some good offer in the market. By doing this I hook them for the offer and ultimately bring some extra money in my pocket. 😉
The obvious answer is that to achieve the best results with your web push notifications, your notifications should be relevant, personalized, and sent during appropriate times.
Web push notifications are disruptive. It diverts your customer's attention from whatever they are doing. When a notification is received, they should either ignore, dismiss or click it. Either way, they will notice it, at-least for a moment. In my opinion, no other channels are as effective as push notifications when it comes to capturing one's attention.So, the notification MUST be relevant to the user. It must be personalized for the user. Broadcast notifications could be annoying and have a detrimental effect.
Now it's your turn
I hope the insights from the best in the field will help you to hit the floor running. If you haven't tried web push notifications – now you don't have any excuses.
Signup here and first 1000 subscribers will be FREE of charge.
As promised – to quickly summarize what experts had to say, here's the infographic:

Ready to give it a shot?