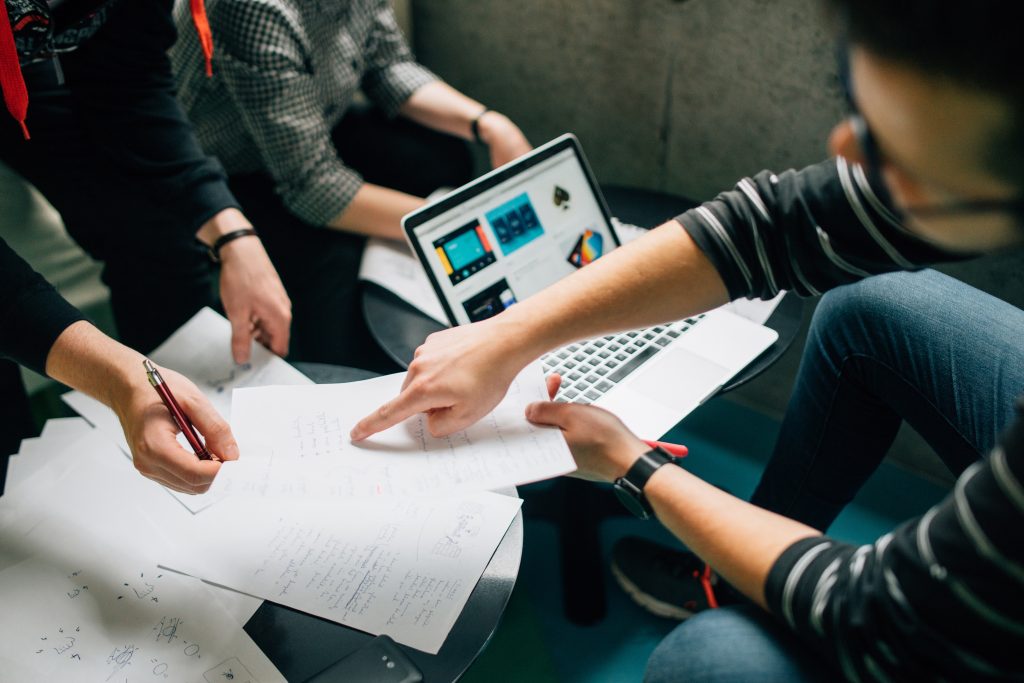 Preparing and running a successful Black Friday Cyber Monday sale can cause a lot of stress for many online store owners. Especially now, that this biggest shopping day of the year is slowly turning into a holiday. Nevertheless, every year more and more online retailers are joining this bandwagon in hopes of making some profit.
Truth is, to make the most of this Black Friday Cyber Monday craze, you need to start planning weeks in advance. To make things a bit easier for you, I've put together 10 helpful tips. Following these pinpointers will ensure this spending holiday is profitable for your business. Let's get straight to it, shall we?
Here's what you will need to do:
[toc]
1. Plan and organize Black Friday and Cyber Monday sales section on your website
First things first, decide which items you are going to be putting on sale. Try to categorize these items, see which ones could possibly be purchased together.
Once you're done with planning and organizing, you'll need to create a separate page for Black Friday and Cyber Monday deals. Why? Because it makes things easier for the shoppers – all of your best offers will be in one place.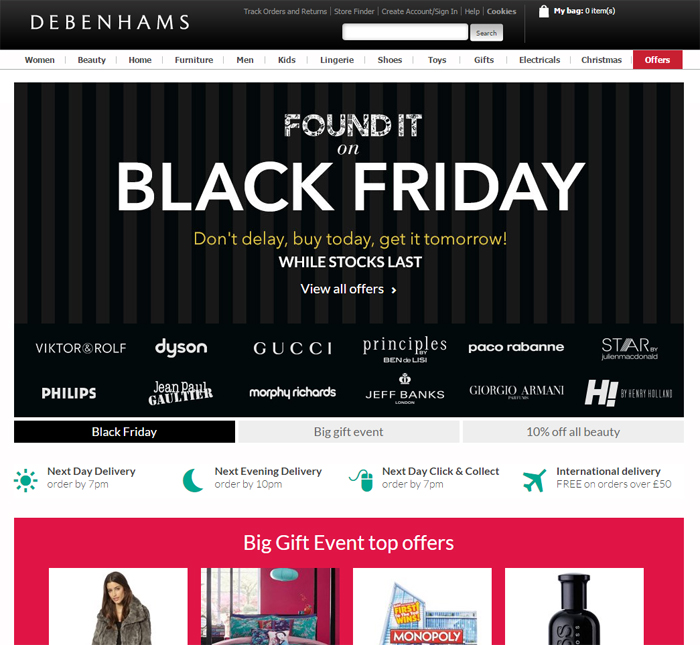 Once you have created a separate page, you need to think how to get visitors to that particular page. A common practice is to display a banner on the landing page that takes users to the sale section. You should also replace regular Sale section on your navigation bar to Black Friday/Cyber Monday Sale.
2. Prepare email marketing campaigns
Over the busy holidays, and especially over Black Friday Cyber Monday, inboxes of your customers will be overflowing with emails. That's why you have to get ahead of your competitors and develop a winner email marketing strategy that would make the heads turn.

According to email marketing automation giant Mailchimp, the key to being heard during this busy time of the year is sending more emails:
"During the holidays, when even the most engaged subscribers' attentions are divided, it's hard for marketing email to stand out. What this also means is that it's more important than ever to maintain a presence in inboxes."
Of course, you don't want to overwhelm or annoy your prospects, but upping your sends can really help keep your store and products in shoppers' minds.
Here are some ideas to help you kick-start your Black Friday Cyber Monday email marketing campaign leading up to Black Friday Cyber Monday sale:
Black Friday Cyber Monday sale deal reveals;

deal of the day;

live countdown to the start of the sale.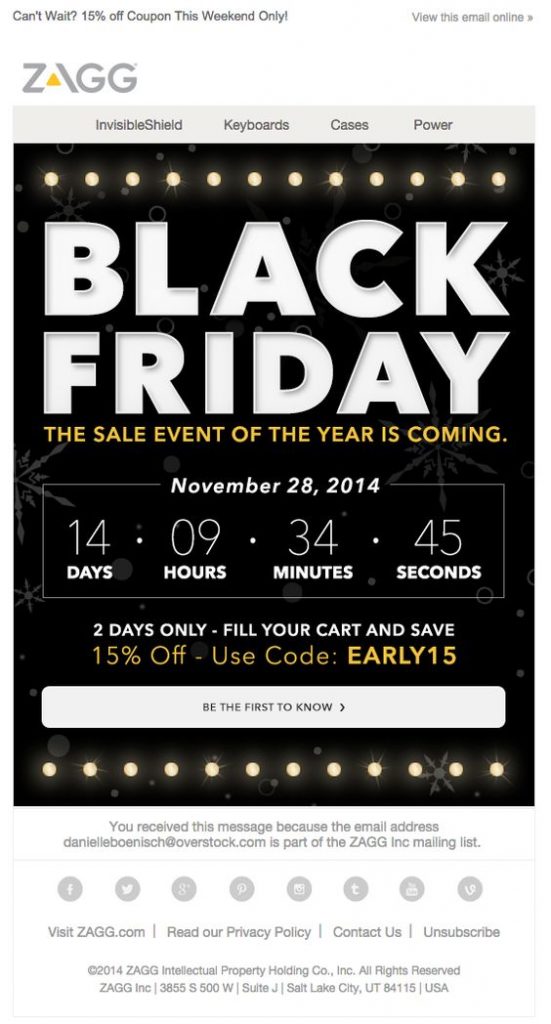 And here are some more ideas for the emails you could send during Black Friday Cyber Monday sale:
announce the start of the sale;

offers targeted by specific interests of the visitor;

offers in a form of "[X]% off everything with a code [X]";

offers in a form of  "[X] items under [X]$";

reminder about cheaper or free delivery;

live countdown till the end of sale;

abandoned cart recovery;

last minute offers;

last item alerts (targeted).
Needless to say, before planning your email marketing campaigns, make sure you actually have someone to send the emails to. If you haven't invested much time into collecting emails, now is the time to start. Step up your game and create a proper email list to make the most of this upcoming spending season!
3. Imply even more urgency to encourage purchases
Have you ever played a videogame where you have to race against the clock to complete a mission? If yes, then you probably have an idea how well the time limit can encourage you to make a fast move, or be more decisive in general.
Black Friday Cyber Monday sales are, in a sense, time-sensitive games. Shoppers have a limited amount of time to make the most out of those difficult-to-say-no-to offers before someone else benefits from them first.
'But you mustn't forget that BFCM is also a competition between the stores: who has a better deal to offer? Whether your deal is better than your competitor's, or not, you cannot take any chances. Ideally, you want the visitor to stick around and place an order on your store. And you can accelerate this action by implying even more urgency on your deals.
One of the ways to promote urgency as a trigger that drives action is to use live countdown timer. You can add those on:
promotional/cart abandonment emails;

banner of the website;

product page;

exit intent overlay.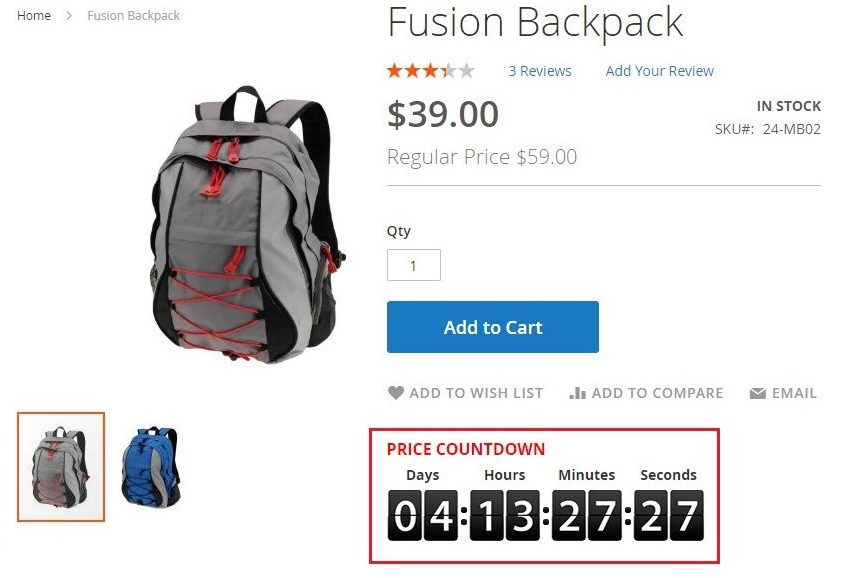 Another way to imply urgency during Black Friday Cyber Monday sales is by expressing product availability. Such phrases as:
only 1 left;

in high demand;

sold out soon;
placed next to the product description can encourage a hesitant shopper to take the plunge.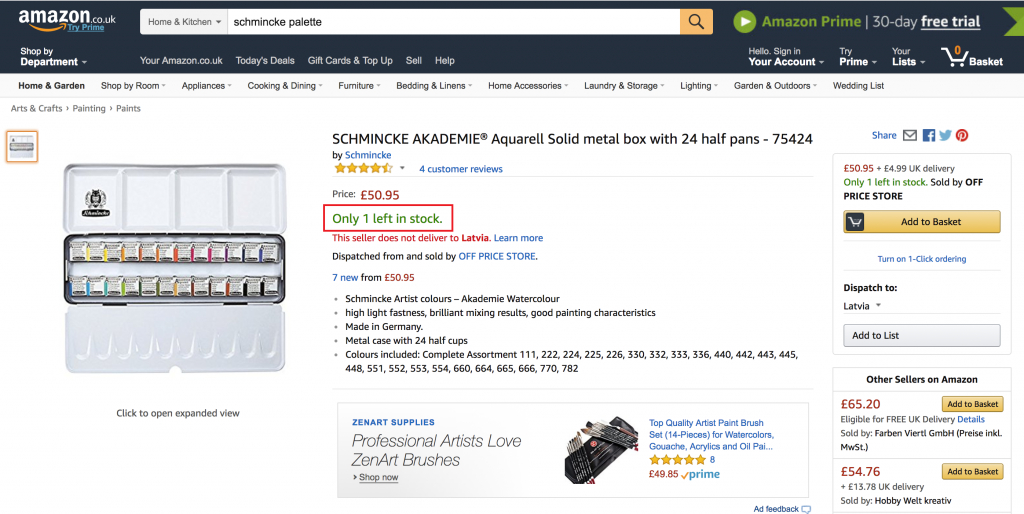 4. Step up your web push notification game
On spending holidays like Black Friday Cyber Monday, you want everyone's eyes on you.
Steal your competitor's thunder by bringing their shoppers to your website. How? By sending out well-tailored web push notification with your best deals. Only one click and your competitor's visitor will be browsing your store!
The technology behind web push notification is simple. As long as a user is on his computer or mobile device with a browser open, push message can appear on the upper right (iOS) or lower right corner (Windows) of the screen. If the offer is compelling enough, visitor will click on the message and be directed to BFCM sale page on your website.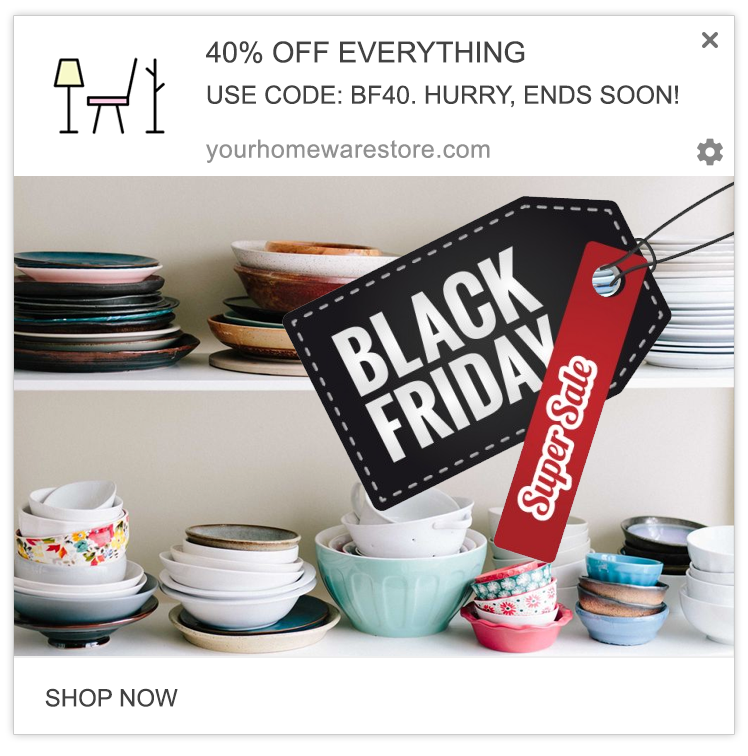 Boom, you just stole your competitor's thunder!
However, it's important to remember that the push notification is a high engagement communication tool which shouldn't be abused. It's easy to make your efforts appear too pushy. The best advice would be to master URL targeting and API segmentation. As a result, you could deliver only the most relevant offers to your push subscribers. You want to be seen as inviting rather than desperate.
When it comes to push notification communication strategy, you can go ahead and use similar ideas to emails. If you are currently not using web push notifications at all, don't worry! Test it out on your website for free, starting today. There's still time to master the art of web push notifications before the madness begins.
5. Upsell and cross-sell like there's no tomorrow
Upselling and cross-selling are popular sales strategies, often used interchangeably. It goes without saying that you should have upsell and cross sell sections on your website at all times. But it's especially important to capitalize on them during spending season like Black Friday Cyber Monday.
Let's quickly look into the difference between these two methods of matching customers with the products of their interest.
5.1 Upselling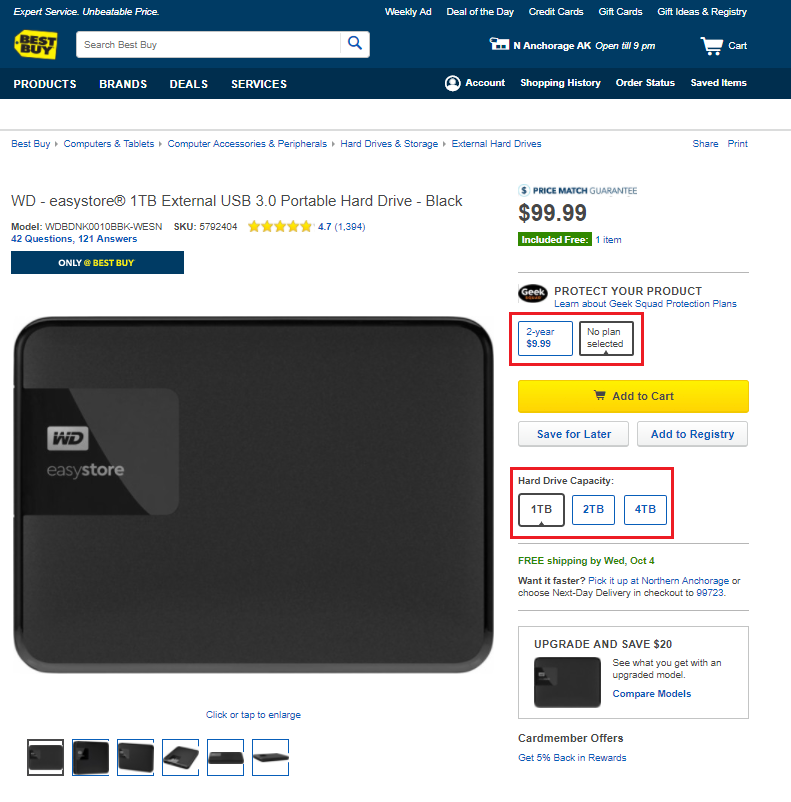 Upselling is used to encourage the customer to purchase:
a more expensive model of the same product;

the same products with additional features.
5.2 Cross-selling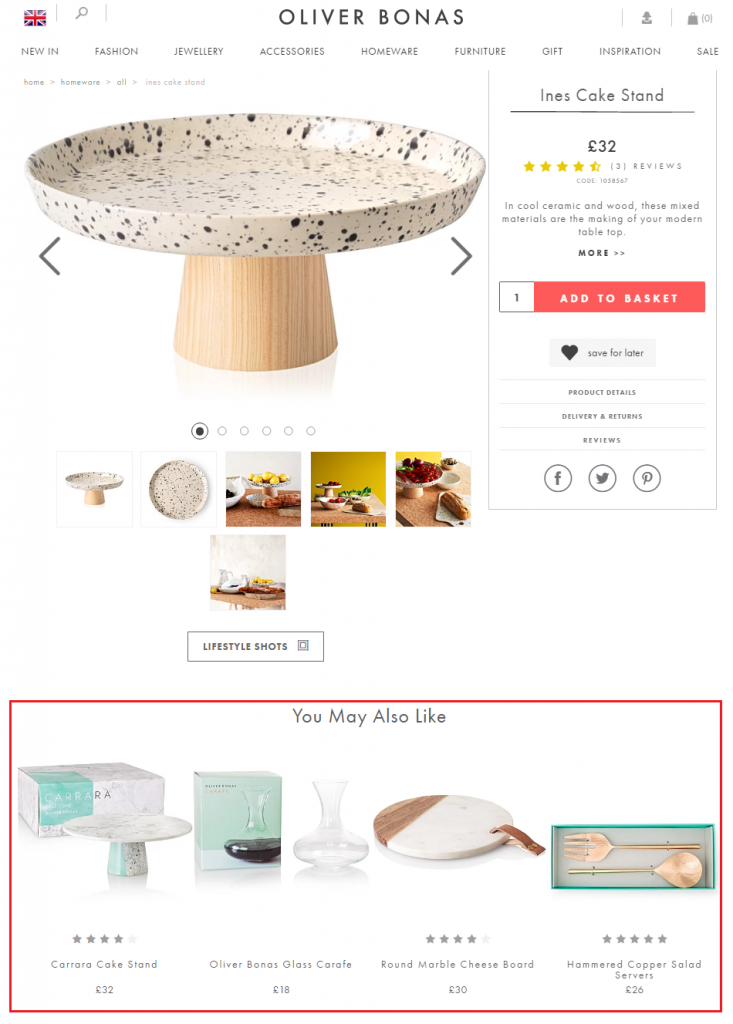 Cross-selling is used to encourage the customer to purchase:
an additional product or service that is different yet possibly related to the product/service the customer is already intending to buy.
When done correctly, upselling and cross-selling can bring more revenue on this holiday shopping season. But what is extremely important to keep in mind, is that every recommendation you make should be relevant to a customer, otherwise it might be just another effort wasted.
6. Give a warm welcome to mobile shoppers
Last year Black Friday became the first day in retail history to drive over $1 billion dollars in mobile revenue. And according to the same report, mobile devices (including smartphones and tablets) are the preferred shopping method for many during this spending season. So why waste an opportunity to sell even more?
Give a warm welcome to mobile shoppers by making their mobile shopping experience on your website or app easy and pleasant. Here's how you can do that:
6.1 Assure a consistent mobile experience
Walk an extra mile to test the functionality and usability of your mobile website before the big day.  Make all the necessary changes to offer a consistent shopping experience for your visitor. All of your work will pay off, and not only for the Black Friday Cyber Monday.
The same can be said about mobile apps. It might be a little too late to develop one if you don't have it. However, it's a perfect time for stores to work on improving their existing app.
6.2 Utilize conversion rate optimization tools for mobile
You probably are already using several different tools on your website that help you optimize the conversions. Whether it's exit-intent overlay, promotional bar or live chat, make sure it targets mobile users too.
However, keep in mind that things which work on desktop, might not work exactly the same on mobile. And that's why you will need to adjust your strategy to see desired conversion results.
7. Create a possibility to continue shopping on another device
Recent studies show that 3 out of 10 purchasing journeys in the US involve multiple devices. And when you think about it, it's not that surprising. You probably could recall a time when you looked up an item on your phone and later on purchased it using a computer.
But what about the times you added something to the shopping cart on your mobile, only to later discover an empty cart on the computer? Have to go look for that particular item all over again? Not fun.
Now imagine this is happening to one third of your customers on your website. You could potentially be losing 33% of your revenue if the shopper is not willing enough to finish his purchase.
To avoid that, you want to tie shopping carts with accounts to prevent customers from losing their shopping carts and not being able to purchase what they intended. It's as simple as that!
8. Drop your shipping charges during Black Friday Cyber Monday sales
Studies show that shipping charges dramatically influence conversion rates. In fact, they can act as a deal breaker for most customers. It is also reported that stores which offer free shipping can expect customers to put more items in their carts, with a bigger overall value of those items.
On shopping holidays like this, the very last thing you want to do is discourage your customer to finish his purchase. Presenting unreasonable delivery prices can easily result in that. Especially knowing that most of your competitors will be delivering their goods to customers free of charge.
Seriously consider dropping your shipping prices at least during BFCM sales. Ideally, you'd like to offer free shipping with no minimum cart value. However, if it's something you can't afford, consider making the minimum cart value lower than it normally is on your website.
9. Put together a holiday gift guide
Emails, banner ads and retargeting campaigns are all very common methods to drive more traffic to your store, before and during BFCM. However, there's one more thing you can do to catch the attention and interest of customers, and that's gift guides.
Isn't it too early to be making these, you might ask. Not at all! According to the National Research Federation, 40% of customers begin researching their holiday shopping as early as October. Shopping for your loved ones can sometimes be quite a challenge. That's why people look for inspiration online. And that's where gift guides can really come in handy.
Most commonly, gift guides come in two forms: blogpost (text based) and moodboars (image based). And, they usually have a theme. For example:
Gifts for her/him

Gifts for bookworms

Gifts for travelers

Christmas gifts under $20

Stocking stuffers under $10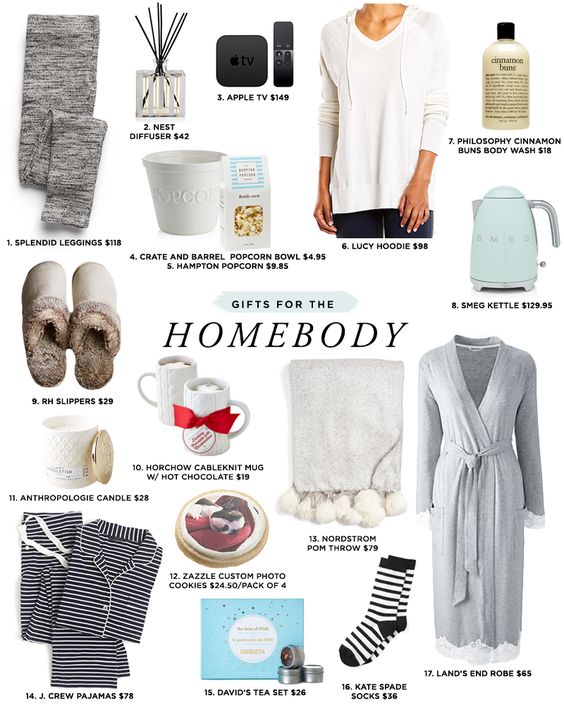 Most importantly, gift guides include links or store names from where each particular item can be purchased. And that's where your store name can appear.
10. Be present 
Even if your website is all set for the BFCM sales and all of your marketing campaigns are scheduled and rolling, you still need to be on the watch at all times.
10.1 Technical issues
On shopping holidays like this, you can expect a significantly higher traffic on your website. Ideally, you should make sure that your website is ready to handle a high volume of incoming visitors and operations. However, even if you think you are prepared, something still can go wrong. And that's why your team should be on board at all times to react fast and eliminate the errors before they cause any serious trouble.
10.2 Customer support
Customers will have questions. In fact, they will have a lot of questions before, during and after your BFCM sale. And you need to answer all of them, preferably in real-time.
Studies show that roughly 44% of online customers say that having questions answered by a live person while purchasing something is one of the most important features of a website.
If you don't have live chat on your website, get it. If it's already there, make sure you have enough fingers typing those answers.
Over to you
With Black Friday and Cyber Monday around the corner, you want to start preparing today if you couldn't do it yesterday. Use these 10 tips as your guidelines, but don't forget to add an extra touch from your side. By the end of the day, only you know what are your customers like and what is the smartest way to make their holiday shopping at your store more pleasant.