7 out of 10 eCommerce stores suffer from online shopping cart problem. In fact, cart abandonment is so deadly for e-shops that it's one of the most common causes for online stores going out of business.
And nobody knows Why it happens or How to fix it..
That is, Until now!
Shopping cart abandonment is bad for your business – that's a no-brainer.
According to a study by BI Intelligence, in 2013 shopping cart abandonment rate was as high as 74%. On the upside, it's clear that analyzing your own site's abandoned carts can and will give you priceless insights.
Why Do People Abandon the Cart?
Why do people just suddenly decide to abort the purchase in progress? Most research points to the same main reasons. It can be that the total costs, including the shipping add up too high. Then there are often technical issues like needing a member account or not having the preferred method of payment available. And, most interestingly, a large part of cart ditchers state they want to compare prices or save the cart for later.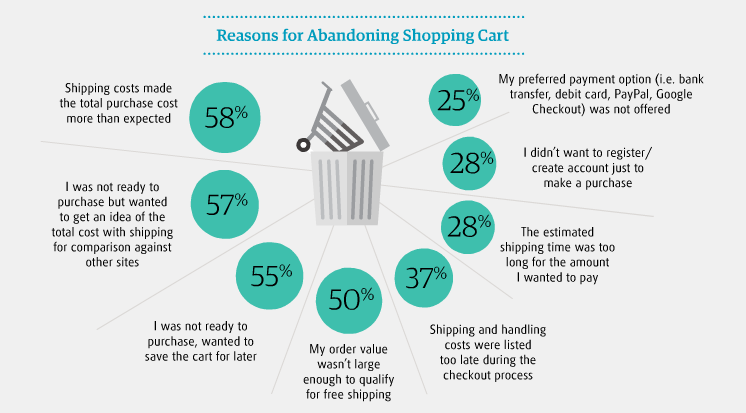 Shipping is a Very Big Deal
As the survey for UPS done in 2014 showed, the thing that scares your customers away the most is shipping costs. When a customer has already made up their mind on buying the Christmas sweater with dinosaurs for 20 bucks, the addition of $10 for shipping at the last step of the checkout blows a seemingly closed deal.
This is also one of the most challenging problems to tackle. A study by Deloitte found that 69% of shoppers say they prefer retailers who offer free shipping and 61% of purchases with free shipping might not have happened hadn't there been free shipping. Understandably you can't always give free shipping if it completely eats away your margins, but you can consider several strategies to make it feel more free:
· offer 'bad' free shipping and a seemingly cheap 'premium' shipping
· offer the customer to buy one more product to save X dollars by getting a free shipping (it might just happen so that the extra sale will cover the shipping for the vendor)
· if you can't do it any other way, remind about the fact of shipping fees after the initial purchase impulse, but before the customer would likely have made the final decision
It's Your Task to Convince the Browsers
Almost all surveys done on this topic find that a large portion of ditching happens because they were just browsing or comparing prices. Although you might think that this is a fact of business, herein lies a great opportunity. Shockingly 81% of online merchants believe that abandoned carts are a lost cause. Conversely it was found that 75% of abandons occur with the intent to return.
One of the must-dos is implementing "Add to wishlist" and/or "Save Cart" functionalities. An "Add to wishlist" option will open a channel of communication with the potential customer, through which you can offer similar products or inform about sales of the product(s). Saving the cart function also creates a bond of a kind as the customer will likely have to leave some kind of contact info / create an account. Both of those functionalities essentially give you a warm lead.
In a physical store a warm smile from the shopkeeper and offered assistance will make the sale more likely happen. In the digital marketplace you have to be responsive with other means. It's a great idea to customize your exit intent technology to intercept cart abandoners. A well timed and targeted exit intent overlay, for example, can make one tab of 30 stand out and convince the potential customer where their money should be spent. Worst case scenario, if the customer is really just curious about the price of some items, you can give them the equivalent of a traditional store's "Good bye, come again", and that's more than most would deliver.
Other Online Shoping Cart Problems
This should serve as a checklist to fix your online shopping cart problem:
· "I didn't want to go through the hassle of registering" – do not make your customer register early, if necessary make it the last step of purchase and as simple as possible,
· "Didn't trust the site/the product" – make sure that customer reviews are visible, no links lead to 404s, servers can handle traffic at peak hours – a jittery and buggy page with no reviews does not leave an impression of a legitimate business
· "I found the same thing on X cheaper" – you might not always be able to offer the lowest price, but if you're perceived to be safer, more trustworthy and smarter with you shipping pricing you will very likely get the sale
· "Couldn't pay with visa/amex/paypal etc." – unless it is completely unfeasible for you profit or risk-wise, you don't want to discriminate against certain payment methods
· "The page didn't feel safe" – add safety logos (VeriSign, Google Trusted Store, PayPal verified, McAffee secure etc.) to any page that asks for credit card data to make the customer feel safe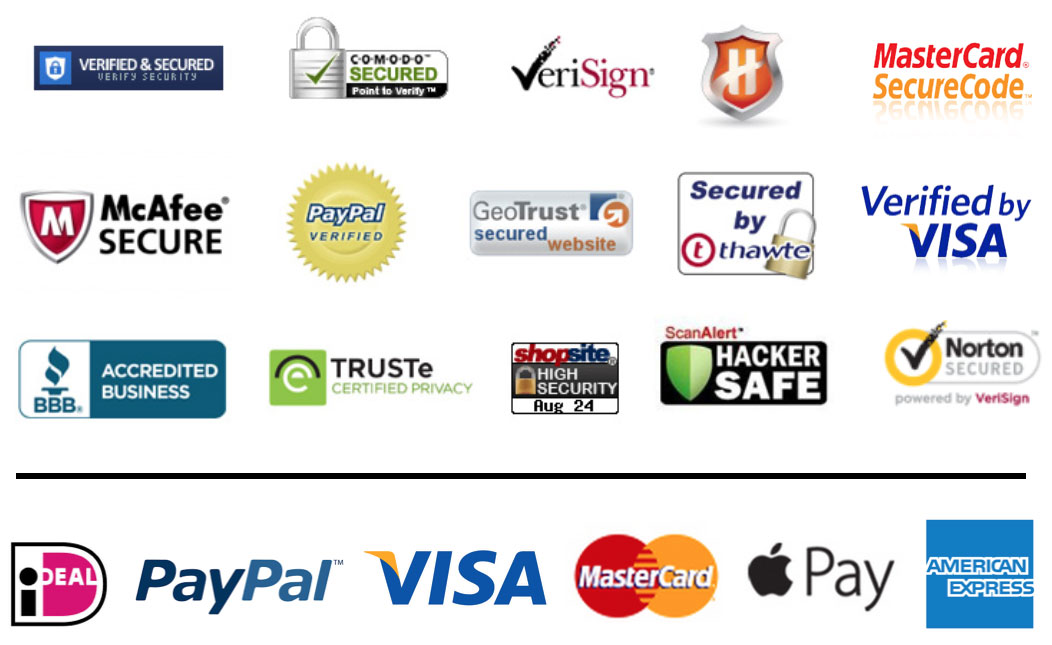 · "I lost interest" / "I changed my mind" – remind your customer at all times of what they wanted to buy to keep emotional involvement high.
This study presents the main reasons for online shopping cart problem and why shoppers leave without paying: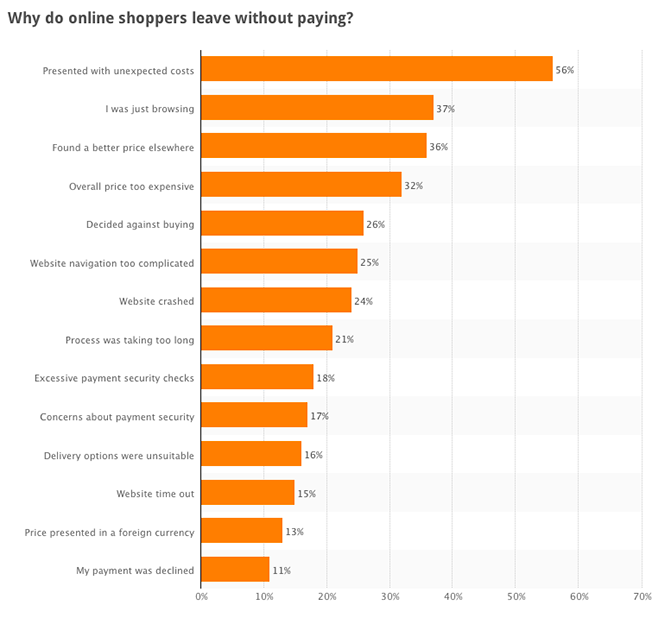 Now it's your turn!
All in all the abandoned carts of your business should not be discarded; they may not yet be a totally lost cause, and there's a lot you can do to get them to come back.
You can also prevent your visitors from leaving in the first place with the use of smart exit intent technology and extra incentives to check out immediately.
Acknowledging is the first step in fixing your online shopping cart problem. Then you can focus on giving your customer the extra push that can reduce your own shopping cart abandonments, and give you a leg up over your competitors.
So, how can MaxTraffic fix your online shopping cart problem? 
MaxTraffic's "Exit intent" is able to target visitors that are about to leave shopping cart without finishing the purchase.
If these visitors are presented with the right offer, they will stay and become your customers.
One example is our client forless.lv who informs their cart abandoners about their free shipping option and it has proved to be successful.
As many as 15% of visitors, who were about to leave, completed their purchase.