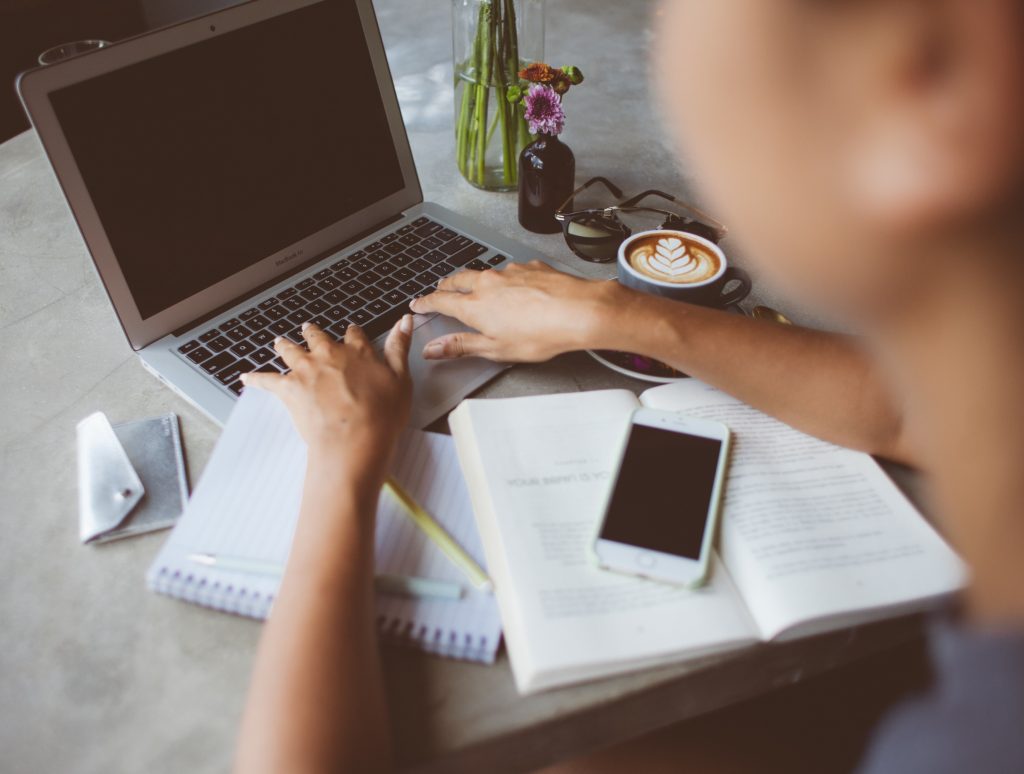 Push notification engagement rates differ from industry to industry. Instead of worrying how push notification is going to perform in one business or another, let's just see how to send push notifications from a website.
All it takes is 4 steps.
Step 1: Create the template for web push notification
Each push notification consists of 4 main elements. Let's break down the example below.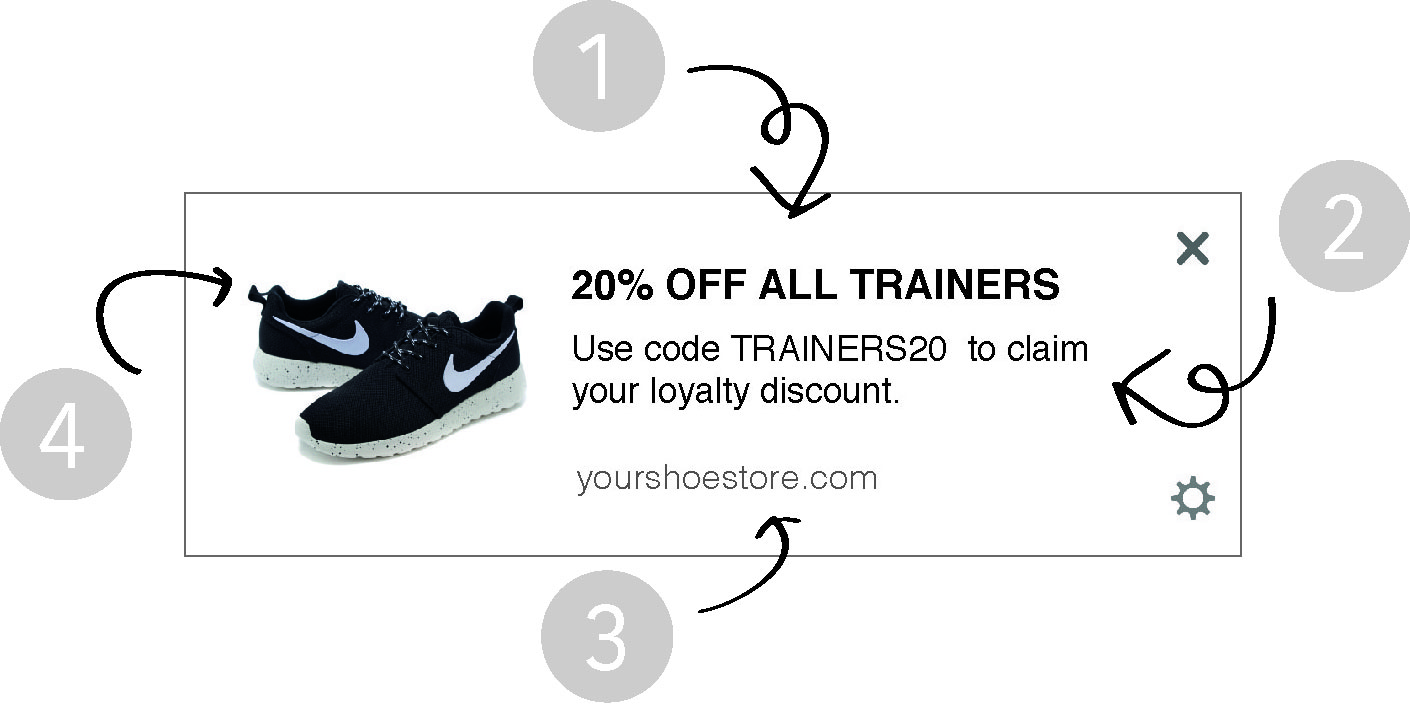 Title

(1) is a headline of the push message and usually is the only piece of text that visitor makes a judgment on while deciding whether or not to click on it.



Message

(2) is a body of a push notification. It usually explains the offer or invitation in more detail.



URL

(3) helps visitors to understand where the message is coming from. Even though in most cases notifications direct subscribers to certain pages (product categories, promotional offers, etc.), only the domain name is displayed on a notification itself.



Image

(4) is a visual aspect of the message. It is yet another chance to capture subscribers' attention, that is why the image should represent the message too.
Step 2: Target web push notifications
An assumption that every user wants to hear about the same thing is not quite right. That is why push notifications should be carefully targeted.
The following are the commonly used triggers that help to identify certain characteristics of the user as well as create the most appealing push message for him:
Location. User location is identified based on his IP address. Being able to present an offer any other type of information, based on the location of the user is especially useful for those websites that have clients from all around the world.

Language. The idea of sending push messages to clients in different languages can be appealing for those websites who have clients around the world with dominant set of languages spoken amongst them.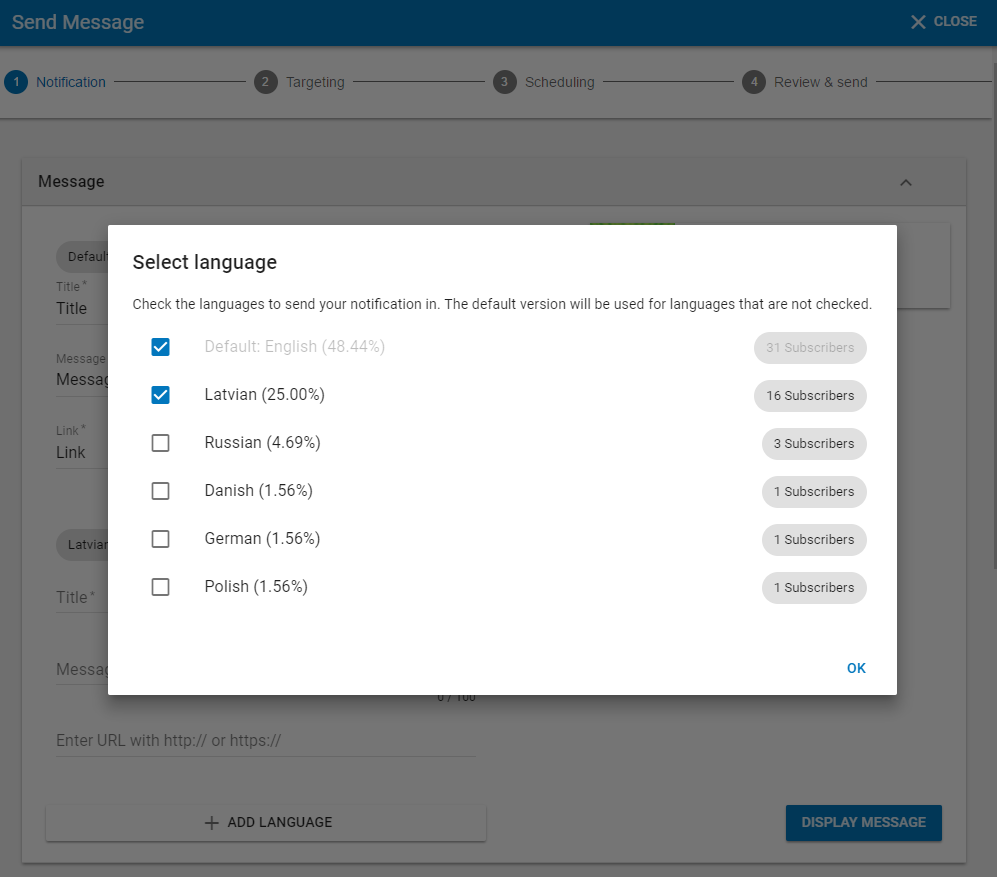 Information of user language is based on the language of the browser that visitor is using. That is why, it is important to understand that you might have more "English speaking" subscribers, simply because some of them choose to use browsers in that language.
URL. Judging by the pages a subscriber visited on the site, it is easy to make a logical assumption that that particular user is interested in certain type of product or service. Knowing that allows marketers to send better tailored messages to clients with more specific offers that are likely to be more interesting for them.

Step 3: Schedule web push notifications
Depending on the settings of push delivery, users are able to receive messages even few days after they were intended to reach them. In other cases, if the offer is valid for a certain amount of time only, it might not be displayed for the user in order to avoid disinformation.
Well-tailored message will do no good if it is not presented to a user at the right time. Analyze data of your subscribers to learn what would be the best time in a day to present them an offer. Also, pay attention to different time zones your visitors might be spread across.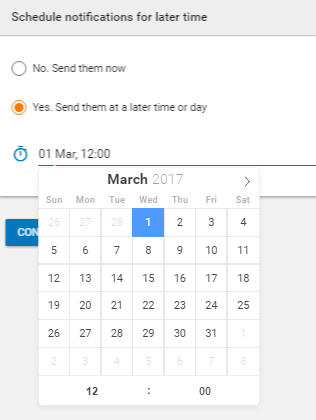 Most platforms that offer push notifications have a feature that allows marketers schedule their push messages ahead of time. It is especially useful to marketers who use different types of tools on daily basis or work with multiple markets at the same time.
Step 4: Review and send web push notifications
Before sending your push message, make sure you review it carefully. Even though a misspelled word will do no harm once, it will compliment your image if it keeps reappearing. If needed, proof-read your messages for a couple of times. This will help to avoid having to blush when confronted by an attentive user.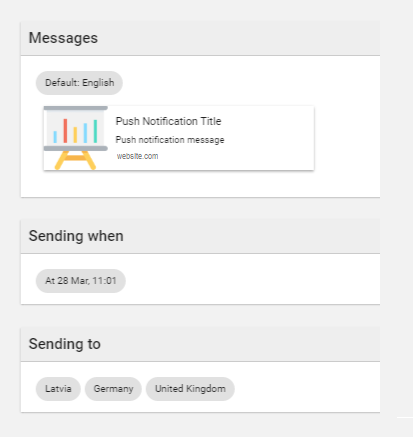 It is usually possible to display a message to yourself and learn how it appears to a subscriber. It's useful to see how overall visual aspects of your message come together. And whether or not it looks appealing.
Knowing not only how website push notifications work but also what is important when creating them is crucial when developing a communication strategy. Keep in mind that little things matter. Every detail can directly influence not only CTR of push notifications but the ultimate results of the conversions too.
---
To sum-up, this is how to send website push notifications:
[toc]
Now it's your turn. Go ahead and see how to send push notifications from a website for yourself.